Larry Craig receives Senate rebuke for Minnesota airport toe-tapping affair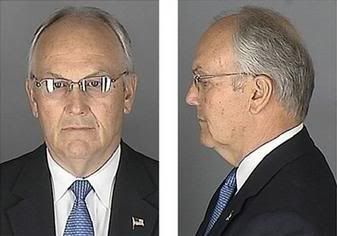 Yesterday Idaho Senator Larry Craig received an unwelcome letter in his inbox from his colleagues. (PageOneQ):
"Your claims to the court … to the effect that your guilty plea resulted from improper pressure or coercion, or that you did not, as a legal matter, know what you were doing when you pled guilty do not appear credible."
Lavatory Larry engaged in…
"improper conduct which has reflected discreditably on the Senate."
(Hey, did they ever slap prostitute-procuring Senator David Vitter with a letter?)
The committee also slapped Larry's wrist for trying to strongarm the arresting officer by pulling out his business card and doing the old "do you know who I am?" BS.
"You knew or should have known that a reasonable person in the position of the arresting officer could view your action and statement as an improper attempt by you to use your position and status … to receive special and favorable treatment."
Craig incredibly seems surprised and disappointed that he didn't receive support of his "friends." The letter was signed by Ethics chair Sen. Barbara Boxer, D-Calif., Sen. John Cornyn, R-Texas (vice-chair), and Sens. Mark Pryor, D-Ark., Ken Salazar, D-Colo., Pat Roberts, R-Kan., and Johnny Isakson, R-Ga.
In an e-mailed statement, Craig told The Associated Press he disagreed with the ethics panel's action.

"While I am disappointed and strongly disagree with the conclusions reached by the Senate Ethics Committee, from the outset I have encouraged the committee to act in a timely fashion and they have done so. I will continue to serve the people of Idaho," he said.
Also: bkmn – I can't resist….more on Larry Craig tossing stains on my hometown airport