Rudy: my campaign is toast if I lose Florida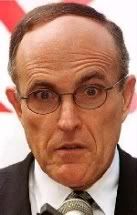 Someone hit him with a clue stick. He stuck all his eggs in the Sunshine State basket and now he's running a distant third or fourth, depending on the poll, behind Mitt and McCain.
Rudy Giuliani appears to be pondering an end to his long pursuit of the Republican presidential nomination.

In a meeting in the back of his chartered plane en route to St. Petersburg, Fla., a short while ago, the onetime, longtime GOP front-runner told a small group of reporters, including The Times' Louise Roug: "The winner of Florida will win the nomination."

…Giuliani's campaign, which led in national polls when it began and stayed there for many months, is showing signs of serious financial fatigue. This month his top staffers are foregoing their paychecks so the maximum amount of money can be invested to salvage his political fortunes in the Sunshine State, which was where Giuliani's late-state strategy was to kick into high gear.

So far, he's yet to finish first anywhere and ended up behind Rep. Ron Paul in Iowa and Nevada.
That Pat Robertson endorsement really paid off, huh?