This and that
The good and the bad…let's start off with the good:
* Trent Lott retires. The senator from Mississippi, long a foe of the homos, finally leaves. In one speech in favor of a federal amendment said linked being gay to incest, bestiality and polygamy. Don't let the door hit you on the way out.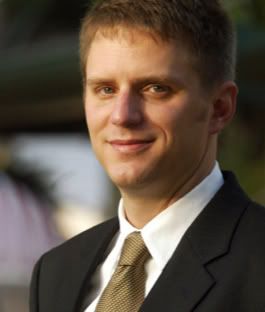 * Fort Worth, Texas, has elected its first-ever openly gay public official. Via the Victory Fund: Joel Burns prevailed in a runoff election Tuesday night to represent the 9th District on the Fort Worth City Council. Burns had to deal with ridiculous anti-gay attacks from opponents, but the Fort Worth Star-Telegram endorsed Burns, declaring that he was "the most knowledgeable about city issues and takes the wisest positions."
* Smith, Lieberman introduce domestic partners bill. Holy Joe is on the right side of an issue for once, so props go to him.
The act, titled the Domestic Partner Benefits and Obligations Act of 2007, would allow an employee and his or her domestic partner to be eligible for federal health benefits, the Family and Medical Leave program, long-term care, insurance and retirement benefits.

"The federal government is our nation's largest employer and should lead other employers, rather than lagging behind, in the quest to provide equal and fair compensation and benefits to all employees. That thousands of federal workers who have dedicated their careers to public service and who live in committed relationships with same-sex domestic partners receive fewer protections for their families than those married employees is patently unfair and, frankly, makes no economic sense," Sen. Lieberman said in his floor statement.
* West Palm Beach Commissioners approve adding gender identity protections. On January 1, two county ordinances will now have protections in effect barring discrimination based on gender identity or expression in Palm Beach County, covering both public and private employers (15+ employees). The scope also includes housing and public accommodations.
* Moscow, Idaho City Council gives the thumbs up to domestic partner benefits. On a 4-2 vote, the council approved a resolution that will provide domestic partners of city employees insurance benefits. This made the Idaho Values Alliance hopping mad, saying it violated the state's constitutional same-sex marriage ban. Moscow City Attorney Randy Fife noted: "What you've got before you is a proposition that doesn't require any decisions on the part of the city regarding domestic partnerships." Councilwoman Linda Pall said it was about fairness and that "it's time for this to be offered by the city of Moscow."
* Vermont commission hears unanimous support for marriage equality. In a state that already has civil unions, there was no dissent at a public hearing regarding transition to full marriage equality. Michael Vinton, a member of the commission, put out some facts:
Of the 8,516 civil unions performed here since they became legal in 2001, only 161 have had their unions dissolved, he said, a rate likely far lower than the percentage of divorces during the same period. "A lot of people tend to think gays and lesbians are not normal," Vinton joked. "Well, as far as marriage goes maybe they are right."
I'll put the bad news below the fold…* Time's Person of the Year presides over a homophobic country. Towleroad has a great run-down about why it sucks to be gay Vladimir Putin's Russia, given the amount of oppression, violence, and outlandish statements by public officials about homosexuality. Examples: Moscow Mayor Yuri Luzhkov called gay people "Satanic," and the gay pride parade this year turned violent, with British rights activist Peter Tatchell and singer Richard Fairbrass of Right Said Fred were assaulted on camera.
* Florida fundies think they can pass a marriage amendment. With the gathering of enough sigatures to put the measure on the ballot, there is going to have to be a huge campaign to stave off Florida being added to the list of states with a constitutional ban on marriage equality. John Stamberger of the Florida Coalition to Protect Marriage told Daddy D's house organ CitizenLink that
"the people of Florida have spoken" and "they will speak again in November" with a "timeless and clear" message: "marriage is the union of one man and one woman."
The key issue is whether Floridians are more like the voters in Tennessee (which voted overwhelmingly to pass an amendment) or Arizona, where the number of co-habitating retirees that would be affected by such a measure will reject it. Equality Florida, Florida Red and Blue and Fairness for All Families are placing their bets on the latter. It should be noted that the current governor, Republican closet case Charlie Christ, hasn't made it clear what his stance is on these developments.
And let's end with the ridiculous:
* The Closet's Last Champion: Why Bill O'Reilly wants you to shut up. This is a great piece over at AfterElton.com by Christie Keith. A snippet on why this man's worldview about LGBTs is old-school bigotry — he calls for a return to invisibility because it makes him uncomfortable having to deal with difference.
Whether on his nightly show The O'Reilly Factor on Fox News, his interviews on other people's shows, or his radio program, the ideology of the closet permeates nearly every word about homosexuality that comes out of Bill O'Reilly's mouth. He may describe himself as a moderate because he doesn't want to see gay people bashed, imprisoned, or fired from our jobs, but the truth is, he just wants us to shut up, and doesn't hesitate to say so.

…So what does Bill O'Reilly claim is so objectionable about lesbians and gay men publicly discussing our sexual orientation? Most of the time it has something to do with the children, although he flips back and forth between protecting straight kids from knowing we exist and protecting queer kids from getting bullied and bashed by their homophobic peers.

When it's not about the kids, it's about their parents, and the agony they experience in having to explain to little Johnny why Rosie O'Donnell married a girl.

And don't even get him started on poor Dumbledore.