Screen cap of the day – open thread
From 365gay.com. Perhaps The Peter will investigate…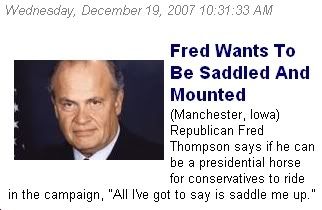 More humor for the afternoon…Jesus' General has written a letter to Ed Rollins, the campaign manager for Mike Huckabee, the rapist/murderer-releasing Baptist minister and former Arkansas governor about the "I-35 movement."
We believe that I-35 is is the "Highway of Holiness" Isiah prophesied about in the Bible, and we've been laying "purity sieges" against all the homosexual bars and porno palaces along that sacred freeway.

Unfortunately, Satan got the best of one of our allied organizations, Heartland World Ministries, recently. They had rescued a young homosexual during a purity siege and placed him in a reparative therapy camp. Things were going well. The young man had followed their instructions: he'd thrown out the drugs a secular doctor prescribed to treat his bipolar disorder and was depending on God to cure him; he was sleeping fully clothed to keep him from patting his robertson; and he was refusing contact with his father, a Methodist (might as well be IslamoMormon) preacher.

Then one night, the demons of homosexuality snuck into the compound and whisked him away to his family; He's at their home now, with his mother, his father, and the Prince of Lies, probably engaged in some kind of John Wesley inspired debauchery with the demons.

We're planning to purity siege their house on Saturday, and we'd like to the Governor to join us. We'll need his help kicking Satan's ass, and it'll give him something to brag about other than weight loss.