Talking Jesus doll flies off of the shelves
The fundies are hitting Target and Wal-Mart hard for a talking toy Jesus — it utters Bible stories and scripture — despite the fact that the bible-beaters have been angry at both retailers at one point or another over courting the Homo Agenda or participating in the War On Christmas. One wonders what their commitment is to boycotts given this news of "Christian" consumerism.
There's been much written about the scarcity of Nintendo's Wii this holiday season, but last week Wal-Mart sold out of another popular toy: the Talking Jesus Messenger of Faith doll. The 12-inch doll is made by one2believe of Valencia, Calif., which also sells Nativity scenes and other Bible action figures such as Samson and Goliath Spirit Warriors.

"We sold out at Wal-Mart, and the toys are still available in a very limited supply at Target.com," said spokesman Joshua Livingston. The company won't restock again before Christmas.

The toy company's press release says there "were doubters who wondered if a 12-inch tall talking Jesus doll that speaks Bible stories and scripture would sell well."

Founder of one2believe David Socha said: "We feel blessed that the toys are now in the hands of thousands of children, teaching them the word of God. We knew that the toys would make great Christmas gifts, but to see them sell so well before the Christmas buying season begins proves that parents want alternatives in the toy aisle."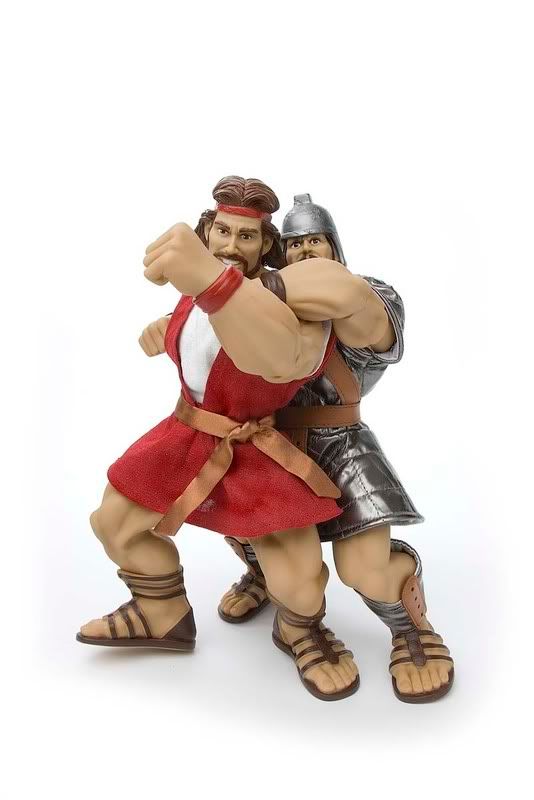 I wonder how well these Tales of Glory Spirit Warrior Action Figures by the same company are doing, sales-wise. Here Goliath Spirit Warrior and Samson Spirit Warrior appear to be engaged in homoerotic wrestling.