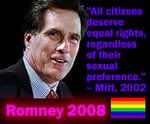 Flip-flopping social conservative pretender Mitt Romney is hearing a giant flushing sound as the pantload of money he's sunk into winning Iowa hasn't produced a lead that could fend of the surge of relatively cash-poor Mike Huckabee. (Des Moines Register):
Mike Huckabee has leaped ahead of Republican presidential rival Mitt Romney in Iowa, seizing first place in a new Des Moines Register poll of likely Republican caucus participants.

…Poll participant Thelma Whittaker, a retired teacher from Columbus Junction, is leaning toward supporting Huckabee in the caucuses but also could back Romney.

"I'm a very conservative Republican and I feel that (Huckabee) follows through with those ideas," said Whittaker, who is troubled by the country's moral decline. On the other hand, she wonders if Huckabee is a strong enough candidate to win the White House for the GOP.

When it comes to Romney, "I go along with a lot of his ideas,'" Whittaker said, "but he's also done some flip-flopping that scares me on issues like abortion and taxes."

…The Register's new scientific poll shows Huckabee, a former Baptist minister, leading Romney 38 percent to 22 percent among those who consider themselves born-again Christians. In October, Romney edged Huckabee 23 percent to 18 percent among people in that group, which accounts for one-half of all likely caucus participants.

Similarly, Huckabee holds a 2-to-1 lead over Romney among those who say it is more important for a presidential candidate to be socially conservative than fiscally conservative.
As Mitt watches the social conservatives flock to creationism advocate Huckabee, he sees that the Base, suspicious of Mormon beliefs, now has a viable "Christian" candidate in the mix that isn't perceived as a serial adulterer or panderer.
Romney's hitting the religion panic button. On Thursday he plans to deliver a speech about his faith, ostensibly to address the bleeding of the bible-beating vote. (Salt Lake City Trib):
Presidential candidate Mitt Romney will do something this week no other 2008 contender likely will: explain to voters why his religion shouldn't bar him from reaching the White House.

…In a speech Thursday titled "Faith in America," Romney will highlight his views on religious freedoms, an American tradition of religious tolerance and how his Mormon religion would affect his potential presidency, his campaign said Sunday night.

…Various polls have shown voters are less likely to vote for an adherent of The Church of Jesus Christ of Latter-day Saints, a faith some evangelical Protestants view as a cult. Romney, who constantly reminds voters they are choosing a commander in chief not a pastor in chief, will attempt to assure critics that his Utah-based faith is akin to other mainstream Christian faiths.
Good luck with that one, Mitt. The GOP has been pandering and courting the judgmental fundie vote with zeal, and they've got a field to choose from that is completely lackluster or inauthentic from their perspective. Now that there are signs of life in the former Arkansas governor's candidacy, all of the "fundie fakers" particularly Mitt, will be scrambling.
More after the jump.Mitt's in a real pickle, since he also has to deal with his own declaration of a religious test — apparently no Muslims could ever serve in a Romney cabinet.
Of course, Huckabee's no saint either. That Salon piece last week by Arkansan Max Brantley, "The dark side of Mike Huckabee will surely be referenced by the GOP clown car rivals, with tales of Huck "claiming public money for a doghouse, dry-cleaning bills, panty hose and meals at Taco Bell."
***
In semi-related news…
What is Howard Fineman smoking?
In the December 10 issue of Newsweek, this is the headline for Howard Fineman's piece:
Chuck and Huck: GOP's Delta Force?
Now that the Gipper is gone and Charlton Heston is in his 80s, Norris has emerged as a dream celebrity "get" on the Republican side: a half-Cherokee Oklahoman and born-again Christian conservative with a ranch in Texas, an eighth-degree black belt in karate, a syndicated column and a multigenerational movie, TV and Internet cult following. When Norris called in October to say that he wanted to endorse Huckabee, the former governor's campaign manager, Chip Saltsman, knew that he had been handed a political triple play. Norris appeals to older men who remember "The Delta Force," to evangelicals who admire his efforts to support Bible study in public schools, and perhaps most important, to kids, who have come to adore him ever since Conan O'Brien began spoofing him on his late-night show in 2004. Teenage boys-including the son of Robert Wicker, Huckabee's media adviser-check the Web site chucknorrisfacts.com daily for mock testimonies to their hero's prowess. Huckabee even uses some in the ad, including this: "When Chuck Norris does a pushup, he isn't lifting himself up, he's pushing the Earth down." "We didn't seek his endorsement," Huckabee told NEWSWEEK, "but we're sure lucky to have it."