International Gay & Lesbian Leadership Conference: blogs, the media and state of the movement
Comedian Suzanne Westenhoefer emceed opening session, and Chuck Wolfe, president and CEO of the Gay & Lesbian Victory Fund and Leadership Institute, gave an overview of the conference's history — from a dozen or so out legislators meeting back at the first event, to over 300 today.
The "LGBT Leaders and the Media" panel I served on was interesting. Neil Giuliano, president of GLAAD will moderated, and the other folks were Steven Fisher, vice president, Logo, Kevin Naff of The Washington Blade and Gail Shister, staff writer for The Philadelphia Inquirer.

.

We took a lot of questions from the candidates and elected officials about working with the media and blogs, and there was a spirited discussion between myself and fellow panelist Gail Shister and Kevin Naff of the Blade regarding whether blogs and bloggers are considered journalists, wannabes, or something else.
I think it's difficult to pigeonhole bloggers because we are all so different — some are journalists, others are commentators, and many are activists on one topic or another. Sometimes I am all of those things, or simply a single person blathering on about my dogs, doing yard work, etc. It's hard to gauge influence, but it's clear, particularly with local and state bloggers that politicians gay, straight or otherwise, ignore them at their own peril. After all, it's not as if ignoring the need to get web savvy is a positive; engaging with those who are part of the virtual town hall is a benefit, not a detriment.
A lot of pols came up to me and said they read the Blend. It's always nice to speak with folks who lurk, since I "know" the regulars here, but you all represent a very small slice of the larger readership, so it's always good to hear from people who do read and share what we discuss here.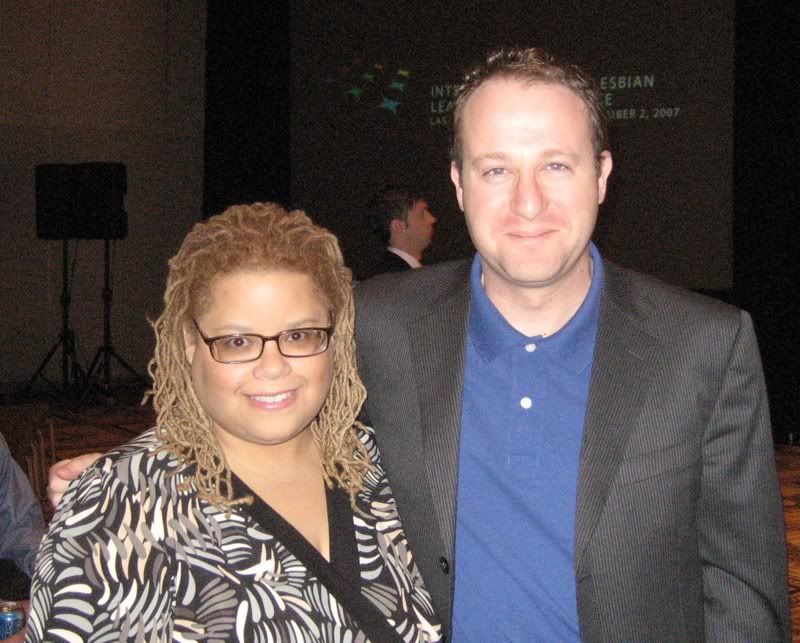 One of those folks is candidate Jared Polis, who is running for U.S. Congress from Colorado's second Congressional District. He recently came back from a trip to Iraq, where he saw first hand that whatever this administration is calling progress is practically nowhere to be found, considering the level of chaos and destruction he saw. He also met up with Congresswoman and conference co-chair Tammy Baldwin (D-WI) to discuss his trip. You can see photos from his trip here.
I'll have more later, including video of California Assemblyman Mark Leno on the state of marriage equality measures in California and Ambassador James Hormel on ENDA. I also have a great exclusive video interview with Tammy Baldwin I'm going to put up.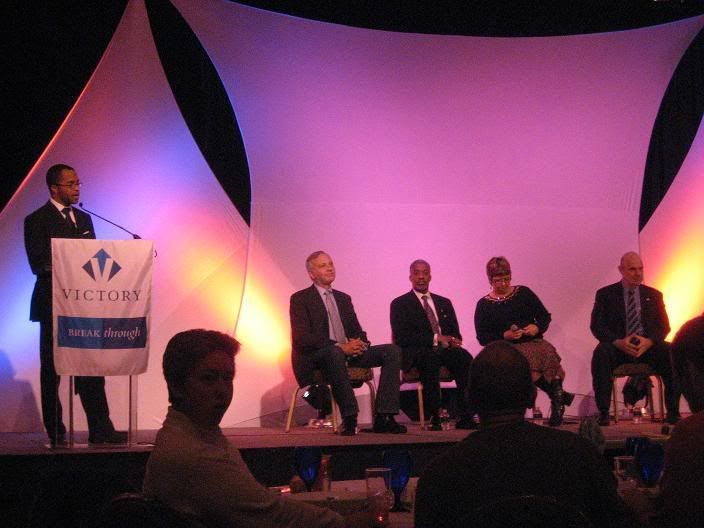 From the State of the Union panel, moderated by the WaPo's Jonathan Capehart, Matt Foreman of the National Gay and Lesbian Task Force, Alexander Robinson of the National Black Justice Coalition Kevin Cathcart of Lambda Legal, Toni Broaddus of the Equality Federation and Linda Bush of the Movement Advancement Project (MAP).
Some stats were shared on LGBT organizations that were interesting.

* Most — 73% — are 501(c)3s, with only 25% 501(c)4s, the latter class is able to lobby.

* Only 4% of LGBT folks donate more than $35 to the top 48 LGBT organizations

* This comparison destroys the myth of the right in terms of filled coffers for advocacy

— the combined budgets of the top 36 LGBT social justice organizations is $142 million. That's the same budget of Dobson's Focus on the Family.

* Focus has about 1300 staff

* LGBT organizations total: 801
OK — I need to get some shuteye before my plane takes off in the AM.