Cars
[Happy Thanksgiving, all!]
Just some amusing miscellany. I got rid of my horridly unreliable Ford Focus station wagon last month. Sorry, Ford — really, I've been a loyal customer up until this point, as I had my Mercury Tracer hatchback for 13 years without any troubles whatsoever. This car, only 5 years old, seemed destined for lemondom. I unloaded it while I could get a decent trade out of it.
I waffled over getting a Subaru Outback station wagon (how lezbo!) or a Toyota Prius, given the rising gas prices. I test drove both and liked both, but there was no haggling with the Prius since they are flying off the lots — the dealership was quite smug about it. The Subaru dealer, however, made an offer I couldn't refuse — nearly $5K less than the Toyota.
One of the casualties of dumping the Focus was I lost my stickers and badges, so I went over to Evolvefish and bought some new ones:
And I added this one; it's a magnet, not a sticker —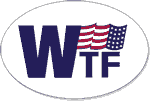 Kate and I are thinking of starting a pool to see how long this stays on the car before some wingnut around here removes it. Any guesses?
It's unlikely to disappear from where I park at work in downtown Durham (wingnut factor low), but I'm sure if I travel to Cary or Raleigh and park, the likelihood of it being removed goes up substantially.