Huck, Chuck — and now Nature Boy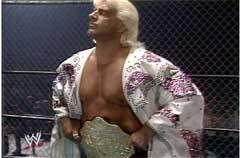 Blender Nate passed along the latest celebrity endorsement that GOP prez hopeful Mike Huckabee has received. Why stop at Chuck Norris when you can have Nature Boy in your corner.
Huckabee is getting ready to rumble: wrestler Ric Flair, a.k.a. The Nature Boy, is supporting the former Arkansas governor in his bid for the White House. CNN has learned the WWE wrestler is on board with Huckabee, and will co-host a campaign tailgate with the candidate at the South Carolina vs. Clemson football game on Saturday afternoon in Columbia, South Carolina. More details are forthcoming.
Check out the Freepi.