Raise you 10 on Neal
[UPDATE: An article in today's Charlotte Observer covers the controversy over the DSCC's snub of Neal. It's after the jump.]
I recommend checking out Chuckyboy's diary on Jim Neal, as he tells readers why LGBT folks around the country should support Neal's candidacy for the U.S. Senate from North Carolina. Actually, anyone who supports change from the status quo in Washington should take a look at Neal.
Chuckyboy wasn't always a Neal fan, btw; he wasn't sure if Jim Neal would run from answering questions on LGBT issues in an attempt to play it safe. What turned it around for him after Neal's straight-shooting liveblog (wrap here) was his appearance on the Michelangelo Signorile Show last week.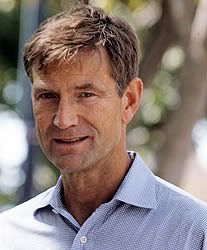 It may be easy to say "support Jim Neal" because he's making history as the first openly gay man to run for the U.S. Senate (and from the South, no less!), but to me, that's not sufficient enough a reason to back him. Why you should is that Jim Neal represents sorely needed change in the U.S. Senate (and no, I'm not on the payroll). To sweep Dole out he needs national support from average folks because he faces not only the GOP machine, but the Dem good old boys who panicked when Neal was the only Dem running, and moved to find someone hetero to get into the race.
Elizabeth Dole has not represented the people for a long time now; voters all across the political spectrum know she is MIA; she lives in DC, and rarely comes back to the state. Even worse, she has been a rubber stamp for the Bush administration on national policy. Heck, her own campaign web site, used to "keep in touch" with constituents, hasn't been updated in three years.
Besides Neal, who else might represent change? State Senator Kay Hagan, the person anointed/recruited by Chuck Schumer, the DSCC and former governor Jim Hunt to jump into the race (after declining to run before Neal disclosed his orientation), has unfortunately already telegraphed what kind of senator she would be.When Hagan was asked whether she would have voted to approve Michael Mukasey for attorney general (who couldn't respond as to whether waterboarding is torture), she gave this answer:
"I don't have a vote in this right now, so I'm going to let the sitting senator decide that."
Well that's taking a stance, huh? Contrast that with Jim Neal's response:
"I believe if we tacitly acknowledge torture as an option for interrogation techniques, we only magnify the likelihood that members of our armed services will be subject to torture." he told Dome.

Neal said that the United States needs to "restore its image in the world community."
It would have been nice to see Hagan give a no-brainer answer on torture, but if that equivocation is a taste of what's to come, we're in trouble. Her web site isn't very inspiring either.
Jim Neal has launched a "10 for Jim – Pocket Change for Positive Change" campaign – $10 (contribute at his site or Act Blue). Small dollar donations make a big difference in campaigns like this.

***
UPDATE: An article in Sunday's Charlotte Observer, is late on the uptake (claiming an "exclusive), but covers the party establishment's snub of Neal.
Schumer and the national Democrats, who boast of their party's inclusiveness, effectively ignored Neal, who is openly gay. After he announced his campaign in October, he telephoned Schumer. The call wasn't returned. Neal was the first Democrat to step up to challenge Republican U.S. Sen. Elizabeth Dole.

Instead, Schumer, of New York, called Hagan, who had taken herself out of the race, and encouraged her to jump back in. She later did.

…Neal, however, falls into a coveted category of candidates: self-funder, someone who will sink a chunk of his own wealth into the race. Such candidates typically get at least a courtesy meeting from their party's national political committees, particularly in the state where former U.S. Sen. John Edwards showed that an unknown with a lot of money can succeed.

Neal, 50, and others suggest that the fact that he is gay drove the actions of the Democratic Senate committee and other leaders of a party that criticizes Republicans for their anti-gay rights platform.

…A former staffer at the national Democratic Senate committee said he was surprised Schumer didn't at least meet with Neal. The gay community has reliably contributed to Democrats, said the former staffer, who asked not to be identified because he still deals with committee staff.
Yes, the Democratic party comes calling red state gay dollars and then try to screw over an announced candidate for the U.S. Senate because of his orientation rather than let him have a level playing field. Nice.
Hat tip, Anglico, BlueNC.
Jim Neal's official campaign web site is here.
Posts:
— DSCC – Where's Jim Neal?
— Report: DSCC scrambled to find hetero challenger to run against Elizabeth Dole
— U.S. Senate candidate Jim Neal at the Equality NC Conference and Gala
— NC: Dems 'come out' to take on Jim Neal
— North Carolina numbers for Neal and DSCC skullduggery
— At BlueNC, Anglico's diary: "The Senate Race: Substance and Style"