Rudy's pale male brigade
Man, how is it possible that Rudy Giuliani couldn't find any peeps of color to work for him? Hmmm? Look at this chart outlining the diversity of the staffs of some of the presidential campaigns.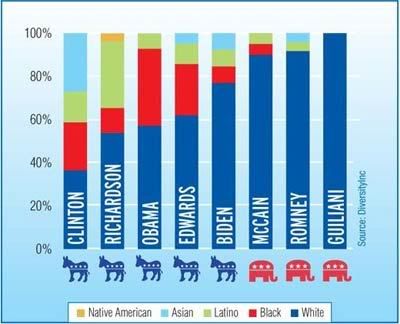 Quote of the day on this goes to Matt Yglesias, who said:
only Giuliani among the major contenders has child molesting priests and mobbed-up former police commissioners in his retinue. It's only diversity in the racial and gender senses that he's lacking.
It's not surprising though, as the GOP clown car occupants have gone out of their way to avoid attending debates focused on minority issues before minority audiences, stiffing both Univision and the Tavis Smiley forums. No need for any minority outreach tokens — I guess the GOP-black-wingnut-talking-heads-for-pay at Project 21 need not apply.
As far as gender diversity, well, Rudy isn't much better, as the man's man likes to surround himself with testosterone.
The campaign of Republican Mike Huckabee achieves the closest gender balance at a near 50% division between men and women on all measures (it is also the smallest of all the major campaigns). The campaigns of Democrats Hillary Clinton and Bill Richardson, and Republican Mitt Romney are also fairly balanced, with Clinton's somewhat favoring women and Richardson's and Romney's somewhat favoring men. The most gender-skewed campaign, in contrast, is that of Rudy Giuliani.

In the campaign of the former New York mayor Giuliani, there is only one senior female staffer, who holds the title of Communications Director. Fewer than one-third of Giuliani's staff who earned $9000 or more in the last quarter are women, and just a quarter of his top twenty paid staff are women.

The Democrats' campaigns are more gender-balanced than Republicans'. Just over thirty percent of Republican senior staffers are women, compared to just under 33% of Democratic senior staffers. And there are ten more top salaried women in Democratic campaigns: 32 of 80 (40%) compared to 21 of 74 (28%) in Republican campaigns.
The campaign breakdowns are after the jump.From Zephyr Teachout and Kelly Nuxoll on Huff Post, here's a cumulative ranking of senior staff gender breakdowns:
HUCKABEE–Balanced, slightly favors women
Senior Staff: 4 of 6 (Communications Director, Finance Director, Field Director, Policy Director)
Top 15 paid staff: 8 women, 7 men
All paid over $9K/3rd quarter: 8 of 15 (53%)

CLINTON–Balanced, but favors women
Senior Staff: 8 of 14 (Campaign Manager, Chief Media Strategist, Traveling Chief of Staff, Policy Director, Director of Operations, 3 well-paid Senior Advisors)
Top 20 paid staff: 12 women, 8 men
All paid over $9K/3rd quarter: 85 of 161 (52%)

RICHARDSON–Balanced, but favors men
Senior Staff: 4 of 11 (Deputy Campaign Manager, Finance Director, Internet Director, one Senior Finance Advisor)
Top 20 paid staff: 8 women, 12 men
All paid over $9K/3rd quarter: 15 of 38 (39%)

ROMNEY–Balanced, but favors men
Senior Staff: 4 of 11 (Campaign Manager, Policy Director, Operations Director, Internet Director)
Top 20 paid staff: 7 women, 13 men
All paid over $9K/3rd quarter: 51 of 126 (40%)

OBAMA–Few women the top
Senior Staff: 3 of 12 (Research Director, COO, Finance Director)
Top 20 paid staff: 5 women, 15 men
All paid over $9K/3rd quarter: 67 out of 150 gender identified (45%)

EDWARDS–Few women at the top
Senior Staff: 2 of 15 (Research Director, Chief of Staff)
Top 20 paid staff: 7 women, 13 men
All paid over $9K/3rd quarter: 34 of 92 (37%)

THOMPSON–Few women at the top
Senior Staff: 2 of 9 (Research Director, Finance Director)
Top 20 paid staff: 4 women, 16 men
All paid over $9K/3rd quarter: 11 of 37 (30%)

GIULIANI–Very imbalanced
Senior Staff: 1 of 10 (Communications Director)
Top 20 identified paid staff: 4 women, 15 men, 1 unknown gender
All paid over $9K/3rd quarter: 36 of 122 (29.5%) [four unknown gender]