Elizabeth Dole – MIA. Liveblog with Dem candidate Jim Neal tonight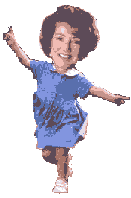 I've been telling folks why it's time to boot Senator Elizabeth Dole out of office for some time now. Never mind that I don't agree with her politics — she's simply not doing the job she was elected to do — represent and take care of the people of North Carolina. She's been inaccessible, no one seems to know when or if she's ever here (or on the Senate floor for that matter); her constituent services are rock bottom. The fact that she votes to affirm the interests of the Bush Administration is just rancid icing on the cake.
On gay issues, she's at the bottom of the barrel, parroting the line in support of a Federal Marriage Amendment. She actually had a template ready for the letter that Kate and I sent her back in 2004. A snippet.
I believe that marriage is a sacred union between a man and a woman. I also believe that it is primarily the responsibility of individual states to set the rules regarding family law. I will support amending the constitution if activist judges attempt to force laws on the nation.
The irony is that the letter was addressed to us — "Catharine and Pamela Spaulding" — as if we were a married couple. And take a look at this non-answer on hate crimes legislation she sent to a constituent. Just pathetic. I'm sure she'll oppose ENDA in the Senate, despite the fact that she personally reassured the homos in her office that they wouldn't be fired if outed.
I decided to take a look at the Friends of Elizabeth Dole web site since the Bush rubber-stamping Senator is surely going to tout her achievements. It's her official campaign site.
Maybe I just have it all wrong. Perhaps I can learn more about why she should continue to represent my state. After all, here's what Liddy "says" on the front page:
We will be using this Web site to keep my supporters updated about my work in the Senate, my visits back to North Carolina, and other happenings. I look forward to using this as another way of staying in touch with you.
Let's just let the web site speak for itself. Some screenshots are below the fold.
Senator Dole lets us know how busy she is. Take a look at her Calendar page of local events to meet constituents:
And look at all the News about the work that Elizabeth Dole is doing on behalf of the residents in North Carolina: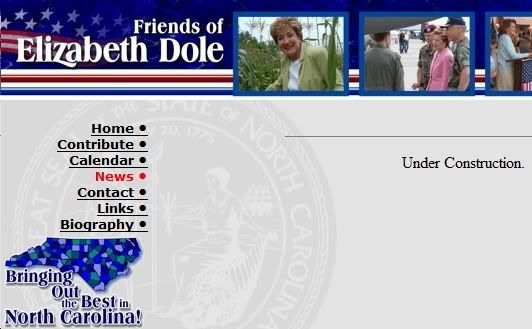 Certainly, her supporters, armed with the above comprehensive information about Dole's accomplishments, would certainly want to click over to the Contribute page.
Thank you for your interest in making a contribution to the Elizabeth Dole Committee, Inc. Your support means a lot and it will enable Elizabeth to continue to keep her supporters updated about her work in the Senate, her visits back to North Carolina, and other happenings.
She's clearly earned the Do-Nothing Dole moniker.
***
Online town hall with Jim Neal tonight, Sunday, November 11, 8PM
Democratic challenger, businessman and fundraiser Jim Neal will participate in an online town hall/coffeehouse chat tonight, Sunday, November 11, at Pam's House Blend at 8PM. This will be his first forum on an LGBT blog.
I hope you all can join us and ask him questions about handling the primary challenge and the establishment politics at play as he runs for the U.S. Senate (as an openly gay man) to tackle the issues that matter — the Iraq debacle, health care, and economic security.
It will also be interesting to hear what he has to say about Elizabeth Dole's enabling of the Bush administration's obscene spending and policies that have hurt the hard-working people in this state.
***
The question asked frequently these days is whether a progressive, let alone an openly gay or lesbian politician can be elected to the U.S. Senate from North Carolina?
The answer "no", while seemingly a slam dunk by the conventional wisdom holders, is not a done deal because of Dole's poor performance (and she's polling under 50% a danger sign for an incumbent).
When Jim Neal was asked about his sexual orientation during the BlueNC online town hall on October 19, the mainstream media basically yawned, with little controversy. The party establishment, however, didn't seem equipped or publicly ready to deal with the fact that you were the only challenger out there, despite heavy attempts to recruit others to run (Congressman Brad Miller, State Rep. Grier Martin). The historic news that an openly gay man was running for the U.S. Senate, from a Southern state no less, was nowhere to be found.
However, the public support by elected officials in North Carolina for advancing LGBT rights is higher than ever before.
Jim Neal at the 2007 Equality Conference
Last weekend candidate Neal attended and spoke at the gala for the state LGBT advocacy group, Equality North Carolina. My wife Kate shot this video. Neal addresses how taking the question of his sexual orientation off the table was a simple matter, and how he's running on the issues.
***
I was honored to serve on the planning committee for the 2007 Equality NC Conference, held the same day as the gala, November 3, at the Duke School of Law (I also liveblogged the event). About 250 people registered to share trench stories about work to advance civil rights in our state for LGBTs, but also to work cross-culturally, and share information about legal and political strategies and successes.
One of our keynoters was Alabama State Representative Patricia Todd (D-54), this AM, who regular readers of my blog may know because of the extensive coverage of her election last year. She is the first openly gay elected official in Alabama, representing downtown Birmingham. What a motivating story her election is — she also had to face Democratic establishment naysayers and resistance in her own party.
The most impressive thing to tout about this conference is the number of state elected and appointed officials and candidates who turned out in this very public venue in support of Equality NC's work and LGBT Tar Heels from all over the state — not just the blue enclaves. Here are just a few that were present at the conference or gala, held later that evening at Duke's Nasher Museum of Art — House Speaker Joe Hackney, Rep. Rick Glazier (the recipient of ENC's legislative award for his work on the school anti-bullying bill, which passed the House), openly gay Special Superior Court Judge John Arrowood (Court of Appeals), Ed Ridpath (Dem candidate, NC House 37), and all of the Dem candidates for Lieutenant Governor.
When assessing Jim Neal's chances of winning the primary, let alone winning the election, consider these stats delivered at the conference by ENC executive director Ian Palmquist:
In NC:
— There are 300,000 LGBT Tar Heels
— Same-sex couples live in every county in the state
— More are likely to live and self-identify in urban areas
— 1 in 3 lesbian couples and 1 in 5 gay male couples are raising children.
Only 14% of funders give at the state level; most give to national advocacy organizations. There is clearly room for development at this level. A national strategy must include the South, and Palmquist says, and North Carolina is the best opportunity for progress in the South. Our legislature is not progressive or liberal but is ready to take on the challenges.
In NC:
— There are 6 out gay or lesbian elected officials.
— One out state legislator (Julia Boseman, elected in a district that voted for Bush, btw)
— One out statewide appointee
There is a lot of work needed to bring LGBT voters in the state to the polls, even those who are politically active vote slightly more than the average. Building alliances has been a very successful endeavor so far, and LGBT issues are well-represented in the progressive political bloc. ENC has increased its ability to contribute to candidates (nearly $60K last year).
The opposition:
— NC Family Policy Council
— Christian Action League
— Called2Action
— Operation Save America
— the garden variety anti-gay churches
To compare:
— NC Family Policy Council Budget: $812K
— Equality NC's: $262K
However, NC is the only state in the Southeast to stop a marriage amendment, killing it three times in committee. The danger is that it will pass if it ever hits the house floor; there were 62 sponsors –and 12 Dems supporting it. It will be back again next year.
— 40% of our legislature has been sponsors or co-sponsors of pro-equality bills in 2007.
— this year, legislation including sexual orientation and gender identity protections passed the House.
Certainly Neal has a hill to climb, but it's time to let the primary voters decide who represents them, not Dem party hacks and backroom dealers. We'll decide if we're ready for a gay U.S. Senator or not.
Jim Neal's official campaign web site is here. His ActBlue page is here.
Posts:
— DSCC – Where's Jim Neal?
— Report: DSCC scrambled to find hetero challenger to run against Elizabeth Dole
— U.S. Senate candidate Jim Neal at the Equality NC Conference and Gala
— NC: Dems 'come out' to take on Jim Neal
— North Carolina numbers for Neal and DSCC skullduggery
— At BlueNC, Anglico's diary: "The Senate Race: Substance and Style"