Blend exclusive: Liveblog with NC U.S. Senate candidate Jim Neal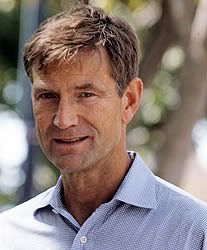 Investment banker and Dem fundraiser
Jim Neal
plans to unseat North Carolina's do-nothing Senator Elizabeth Dole next fall.
Jim Neal's a native Tar Heel, he was born in Greensboro and lives in Chapel Hill; he's not parachuting in.
Neal has family values that put quite a few serial-marriage GOP pols to shame: He has raised two sons as a single parent for 15 years; both support his decision to run.
He knows how to raise money.
Neal knows Dole is beatable. North Carolinians have had such poor service from Senator Dole (she's rarely in the state, and she has been little more than a megaphone for George W. Bush), and she parroted the White House line and gleefully voted against the State Children's Health Insurance Program bill.

This is his first coffeehouse chat on an LGBT blog; join us in the comments and post your questions there; Jim Neal will answer them in the nested thread. I have a background post here, for those who are new to the blog. The archive of Jim Neal posts is here.

In October Jim Neal took questions from the North Carolina progressive community on BlueNC online town hall. It was there that he was asked about his sexual orientation. He disclosed it in a very matter-of-fact manner.
I've heard …
Submitted by omega_star on Sat, 10/20/2007 — 10:09am.
I've heard you're gay …

Gay
Submitted by JimNeal on Sat, 10/20/2007 — 10:18am.
I am indeed. No secret and no big deal to me — I wouldn't be running if I didn't think otherwise.
The question asked frequently these days is whether a progressive, let alone an openly gay or lesbian politician can be elected to the U.S. Senate from North Carolina. Jim Neal says he can.
In a race that may take
$15 million to win
(and the GOP is going to pour money in to save Liddy's posterior), Neal needs support not only from North Carolinians — this is a race that will garner national attention. Jim's shooting for
1,000 donations
and 1,000 new members to his
Facebook page
in the
next 10 days
.
— Jim Neal's official campaign web site.
— Jim Neal's ActBlue contribution page.
— Jim Neal for Senate Facebook group.
***
Welcome to the coffeehouse, candidate Neal. Have a cup of java and chat with the Blenders; they have lots of questions for you.
[NOTE: the
rules of the community
apply and the threshold is low tonight; trolling, rude and inappropriate comments or questions will quickly result in the trap door being opened by the blogmistress.]
A bit of additional information…
Borrowing from phoenixdem, one of the members of the BlueNC community, which has been tracking Jim Neal's rise (as well as the reaction to it), a look at the sequence of events that has brought us to today:
1. The Democratic Senatorial Campaign Committee recruits Congressman Brad Miller, Miller takes a pass.
2. DSCC begins recruiting State Rep. Grier Martin and State Senator Kay Hagan.
3. Buzz develops around Martin, who becomes the DSCC's top choice.
4. Jim Neal announces his candidacy.
5. Hagan says she won't run.
6. Martin announces he won't run.
8. Neal visits the BlueNC community and acknowledges that he is, in fact, gay.
9. Hagan announces her candidacy.
No one outside of the Dem backroom can know cor certain whether Neal's coming out was in fact the reason why he now has challengers for the Democratic nom, but it's clear that the party establishment didn't seem equipped or publicly ready to deal with the fact that Neal was the only challenger at the time. The historic news that an openly gay man was running for the U.S. Senate, from a Southern state no less, was nowhere to be found. Interestingly, local news coverage of Neal's announcement didn't raise many eyebrows.
***
Once this liveblog is over, please surf over to BlueNC to read the great forum with ally Ed Ridpath, who's running in NC House 37 to unseat the anti-gay Skip Stam, one of the architects of the state marriage amendment that keeps getting killed in committee.