Joe.My.God wins 2007 Best LGBT Weblog Award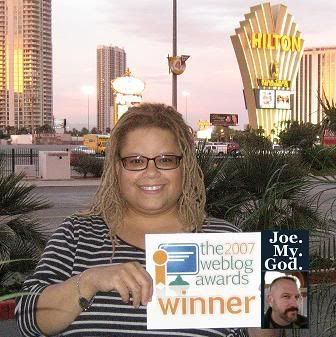 Joe Jervis of Joe.My.God would have taken home the 2007 Weblog Award for Best LGBT Blog at Blog World Expo on Thursday night, but he wasn't able to be there to accept it, so I went up to the podium and gave him props for coming in first this year with 2,917 votes.
I'll pop it in the mail to you, Joe — congrats.
***
Had a fun day at the conference, but the most enjoyable part of the day was meeting and being treated to lunch by Joe Murray, the former staff attorney and columnist for the American Family Association. He's a really nice guy, and, well, he has stories about the madness inside the House Of Wildmon that would curl your hair. I don't know how he lasted in that place. Let's just say the goings-on at the AFA sound like Peyton Place.
It was also great to get together with Joe Sudbay and Chris Johnson; I last saw them when I was in DC for Out and Equal. My badge didn't allow me into the political blogging panel that Joe served on this AM, but apparently there were a lot of fireworks between the lefty and righty bloggers (including Hugh Hewitt and Dean Barnett of The Weekly Standard).