North Carolina: Blogging from the 2007 Equality Conference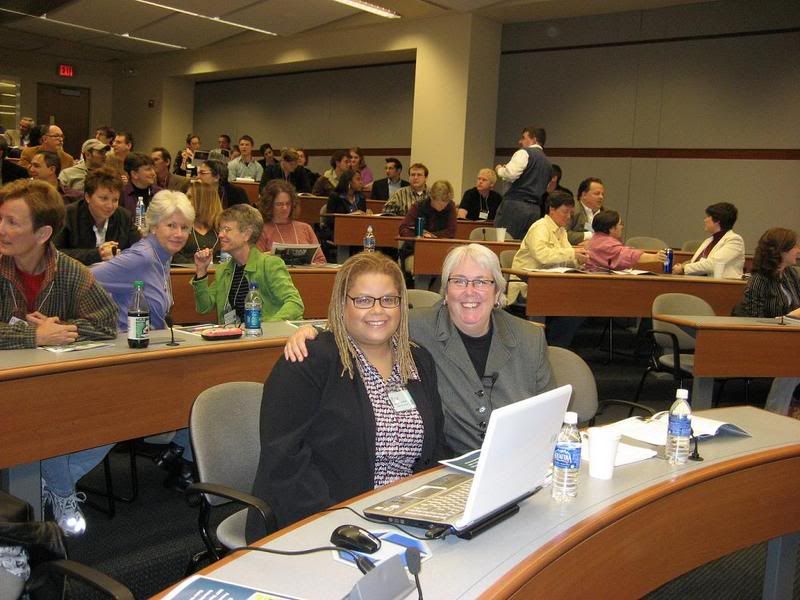 With Patricia Todd, and the attendees at the conference, before the opening session.
LGBT North Carolinians and allies are coming together today to share stories and strategize about how to advance civil rights in our state at the 2007 Equality NC Conference, held at the Duke University School of Law. There are 250 people registered for the conference and 215 registered for the evening gala at the Nasher Museum of Art in Durham.
Fellow Tar Heel and QNotes editor Matt Hill Comer and I will be posting coverage of today's event as well, with pictures and commentary on the sessions and give you a sense of the energy going on here in North Carolina as movement leaders, grassroots advocates, and LGBT citizens from across the state gather for a day of networking, skills-building, and learning.
***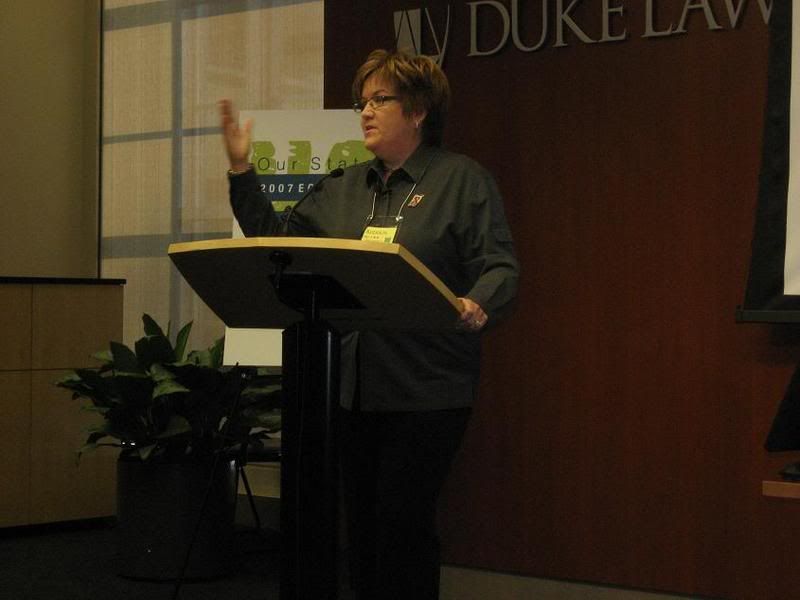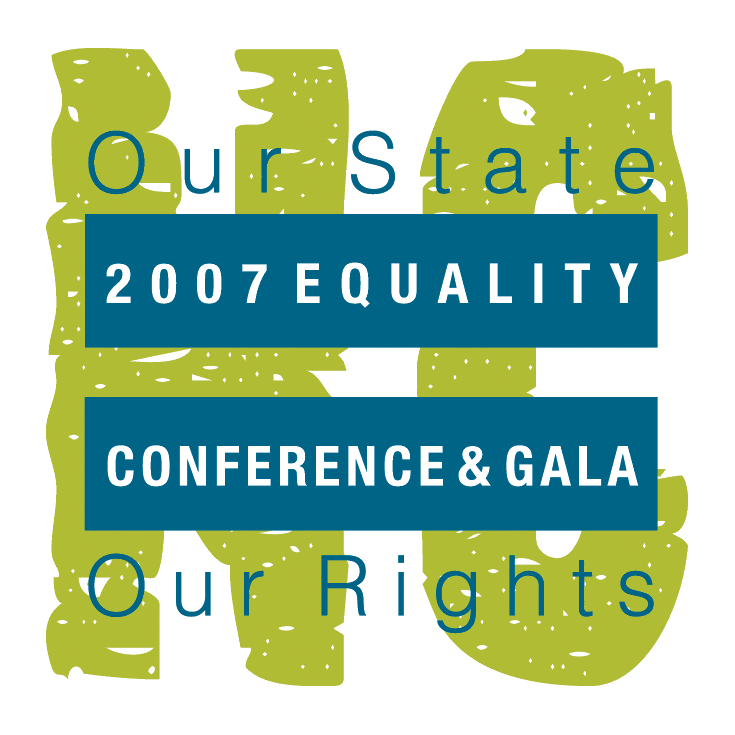 9:30 AM: Addison Ore, the board chair of Equality NC, opened the conference by discussing the genesis of the conference, which is the first of its kind in the Tar Heel state. She outlined the goals of the conference — bringing allies, LGBTs and legislators together to discuss issues that matter to the community, to engage young people and provide more information about what is happening in our community and creating change in our state.
***
9:45: Ian Palmquist, executive director of Equality NC gave an overview of the state of LGBT issues in the state. He notes that there are a great number of challenges at the state level — but there are many opportunities to make change.
In NC:
* There are 300,000 LGBT Tar Heels
* Same-sex couples live in every county in the state
* More are likely to live and self-identify in urban areas
* 1 in 3 lesbian couples and 1 in 5 gay male couples are raising children.
Only 14% of funders give at the state level; most give to national advocacy organizations. There is clearly room for development at this level. A national strategy must include the South, and Palmquist says, and North Carolina is the best opportunity for progress in the South. Our legislature is not progressive or liberal but is ready to take on the challenges.
In NC:
* There are 6 out gay or lesbian elected officials.
* One out state legislator (Julia Boseman, elected in a district that voted for Bush, btw)
* One out statewide appointee
There is a lot of work needed to bring LGBT voters in the state to the polls, even those who are politically active vote slightly more than the average. Building alliances has been a very successful endeavor so far, and LGBT issues are well-represented in the progressive political bloc. ENC has increased its ability to contribute to candidates (nearly $60K last year).
The opposition:
— NC Family Policy Council
— Christian Action League
— Called2Action
— Operation Save America
— the garden variety anti-gay churcehes
To compare:
— NC Family Policy Council Budget: $812K
— Equality NC's: $262K
However, NC is the only state in the Southeast to stop a marriage amendment, killing it three times in committee. The danger is that it will pass if it ever hits the house floor; there were 62 sponsors –and 12 Dems supporting it. It will be back again next year.
— 40% of our legislature has been sponsors or co-sponsors of pro-equality bills in 2007.
— this year, legislation including sexual orientation and gender identity protections passed the House.
School bullying.
— 7 out of 10 NC students report being harassed at school for sexual orientation and gender identity. Only 24 our 115 School Systems have anti-bullying policies, so the School Violence Prevention Act passed the state house 72-47. In the Senate the bill passed, but was stripped orientation and gender identity from the bill. In the next session we have to get the House to not concur with the Senate's action.
Anti-discrimination laws
— There are no protections for NC workers in private employment — they can be fired for being LGBT.
— At the state level, there are only 4 agencies have protections.
— Only Chapel Hill/Carrboro includes gender identity in its anti-discrimination ordinances; several cities have policies that protect on the basis of sexual orientation.
— ENC is laying the groundwork for statewide legislation in 2009.

I introduced Alabama State Representative Patricia Todd (D-54), this AM, who regular readers of the Blend may know because of the extensive coverage of her election last year. She is the first openly gay elected official in that state, and she and her partner Jennifer are completely wonderful down-to-earth people. We're so glad they agreed to come to our first conference. A thumbnail sketch:
Alabama Representative Patricia Todd has socially and professionally advocated for public policies relevant to social justice, HIV/AIDS, health care, and a wide range of issues affecting the entire community in Birmingham for the past twenty years. After a contentious serious of political races in 2006 that garnered state and national attention, she was elected to the Alabama Legislature as the State Representative for House District 54, making her the first elected public official who is openly gay in the history of Alabama. Rep. Todd was selected as one of the "Top 40 Under 40" by the Birmingham Business Journal in 1992, and was elected in 2004 as a delegate to the National Democratic Convention. Professionally, she is presently the associate director of AIDS Alabama in Birmingham, and resides with her partner, Jennifer Clarke, in the Crestwood Neighborhood of Birmingham, Alabama.
Patricia's talk is about her race, how the impact of both anti-gay forces and racial conflicts merged to create a perfect storm of media coverage and controversy.
What is important about her election, is that she never expected to win — her district is majority black, has some of the poorest residents of Birmingham as well as the most affluent. It is also home to the largest out LGBT population.
No one thought she would win, she was a political novice, and her team had no experience; she cites the Victory Fund training was essential in giving them advice and backing. She did say that the one matter they differed on — the importance of yard signs — she had volunteers working those signs all the way up until election day.
She described the complexities of the race — how the gay issue, while a known factor, actually became less of an issue than the racial issue. It was a huge factor in that her district had long had black representation. Joe Reed, the honcho of the Alabama Democratic Party, a black man, told her in no uncertain terms that this was "our seat" and that she couldn't have it. Rep. Todd went on black talk radio, which has a liberal base in an
y other circumstance, tore into her out of fear, with callers asking how a white lesbian can represent our needs, to whether she would work to overturn the state's marriage amendment. She kept the emphasis on how good government mattered most to everyone, and that's why she was running.
There were five candidates in the primary runoff. Two of the black candidates endorsed Patricia Todd over the other top vote getter, Gaynelle Hendricks, a black woman. It was at that time that Joe Reed began a campaign to make this about race, when in every other aspect
She showed the outrageous flyer that was distributed, showing her with her two black candidate supporters (her "two Uncle Toms). "Ms. Patricia Todd is the one who is a confessed lesbian (bulldigger, homosexual, butch and so on and so on)….Patricia is not one of us. She does not want to be a woman, she is not black and her support is coming from gay and lesbian organizations outsde of our community. BEWARE. BEWARE. BEWARE."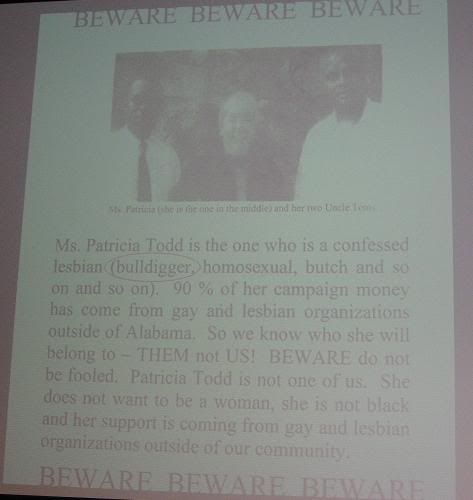 She stressed the importance of gay candidates in Red States of having an expertise or focus on an issue that people can find common ground with — Patricia Todd's passion is working on the eradication of poverty; she is chairing a state task for on poverty, and by being responsive to constituent needs she's winning skeptics over.
***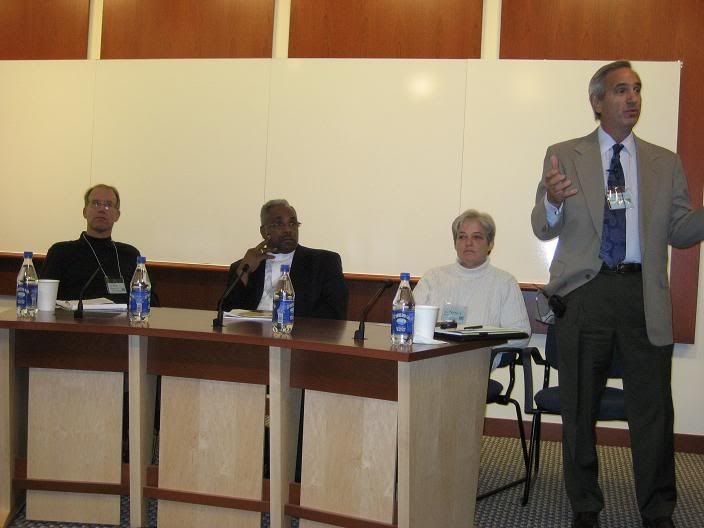 Rev. Hoffman, Rev. Longcrier, Rev. Petty, Rev. Creech.
11:30: Keeping the Faith: Working In and With Religious Groups
Sponsored by Mitchell Gold + Bob Williams
Rev. Joe Hoffman, based in Asheville, talked about the process of evolving First Congregational United Church of Christ,into an open and affirming ministry (the congregation is just over 100 people [20% LGBT]). The board decided to take on a year-long process of dialog with congregants, and the vote in 2002 was overwhelmingly in favor of supporting its LGBT people of faith. The church hired a openly lesbian pastor, and worked for her ordination, even though on the books, if you're out you cannot be ordained.
The church is in favor of marriage equality and includes that in its mission statement. Hoffman made a decision, as an agent of the state, to cease marrying opposite-sex couples as long as same-sex couples cannot legally marry. This was a front page story, and news of his declaration traveled all over the world.
One of the exciting things about this panel is the participation of Rev. Reggie Longcrier, who asked "the big question" of John Edwards at the You Tube Dem presidential debate:

Sen. Edwards has said his opposition to gay marriage has been influenced by his Southern Baptist background. We know religion was once used to justify slavery, segregation and women not being allowed to vote, all of which today are recognized as unconstitutional and socially and morally wrong. So why is it still acceptable to use religion to justify denying gay and lesbian American their full and equal rights.
Rev. Longcrier had an upbringing where he never received a message of intolerance against gays and lesbians. When he worked a prison ministry, this was never an issue. he noted that in the civil rights movement, those marching and facing racism at least had their families and churches for support against oppression — out LGBTs, in so many circumstances have no one.
In his church, Exodus Missionary Outreach Church in Hickory, NC, he welcomes all races, LGBT worshippers, and plays a special role in doing outreach to ex-convicts released with $20 in their pocket and nowhere to go.
He quite humbly touched upon the genesis of the question he posed at the debate regarding John Edwards' personal opposition to same-sex marriage based on his religious beliefs. The inconsistency of using scripture to deny civil rights to citizens. He was shocked that CNN selected his question as a finalist and invited him to fly him to participate in the YouTube debate in Charleston. He figured he would just enjoy going on a carriage ride with his wife, that it wouldn't make the final cut. When he got to the Citadel and saw the image of his video broadcast on the screen, he turned to his wife and said "this is serious. [laughs]." He's faced opposition upon his return home to Hickory, but he said that he'd ask that question again — and he's not lost one church member.
Rev. Nancy Petty is pastor of a church, Pullen Memorial Baptist Church in Raleigh, that has been in the media for its acceptance of LGBT parishioners.
In this church, they took a year to discuss the process of accepting gays full membership in the congregation and to bless same-sex holy unions. The held scripture studies to determine how to interpret the texts and created listening sessions to hear affirmation and doubts from members. The vote to affirm was held in February 1992.
At the same time, the Olin Binkley Baptist Church in Chapel Hill was going through a similar process of whether to have openly gay clergy.
It has earned the ire of the Southern Baptist Convention, which is openly hostile to LGBTs, and has officially voted to ban open gays and lesbian from the pulpit, and remain non-welcoming to gays, lesbians and the transgender. Both churches, as a result of their decisions, were "disfellowshipped" from the Convention.
Rev. Jimmy Creech discussed the work of the progressive faith community in NC (350 religious leaders), making a statement of support of marriage equality, and to make sure the legislature knows that they don't want a marriage amendment to pass in the Tar Heel state. He also talks about the organization he represents, Faith in America, which was founded by furniture magnate Mitchell Gold, that addresses religion-based bigotry. Outreach campaigns have included billboard campaigns, trips to Focus on the Family HQ, advertisements in local papers, and work in focus groups with faith communities that agree and disagree. Mitchell Gold held breakfasts with Baptist ministers each week to discuss the conflicts and issues surrounding inclusion. Some of the kinds of dialog revolved around the belief of these conservative clergy that being gay is a "temptation that must be resisted," but what is different is that there is not shouting, but
dialog.
There was a general discussion about people in congregations and denominations and concern of "hurting" their churches when the subject of being open affirming comes out. All of the panel agreed that the churches are hurting their faithful LGBT worshippers. The bottom line is that gay people of faith have to be willing to be hurt in order to effect change. They may hear that there is no intent to be affirming — the church may still take your money, let you worship, but don't want to confront someone living their lives as LGBT people of faith. One has to build relationships, personal conversations about your lives, a commitment to faith and it's hard work that requires courage to stand rejection; there are likely more allies in the pews than is believed. People in the audience said that this was indeed true. Painful meetings with harsh conflict have not driven away people, they have still remained engaged in many forums. The lay people can bring about change, it cannot be left only to the clergy to move forward on these issues.
Rev. Petty warned pastors in the room is that if you do the right thing, know that you may lose your job for holding fast to your convictions.
***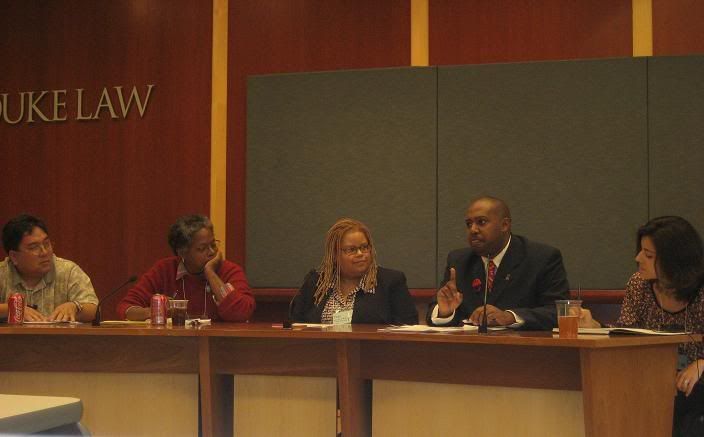 Allan Taziri, Mandy Carter, your blogmistress, Rev. Roger Hayes, Alba Onofrio.
2:15-3:30: Still Crossing Those Bridges: Facing Racial and Ethnic Barriers
Moderated by Pam Spaulding, Blogger, Pam's House Blend , and Member, Equality North Carolina Conference Committee, Durham
Mandy Carter, Co-Founder, Southerners on New Ground , Durham
Reverend Roger E. Hayes, Pastor, Church of the Holy Spirit Fellowship, Inc., Winston-Salem
Alba Onofrio, Executive Director, El Centro Hispano, Durham
Allan Taziri, Member, Fayetteville Bayard Rustin Commemorative Alliance
We had a great discussion on several topics –
* Coming out in communities of color in NC — identifying the challenges.
* Finding LGBT cultural common ground between different communities of color.
* How these groups can come together to on initiatives to move LGBT rights forward — what tools and approaches work.
* Alba brought up how class factors into the equation as well — race and ethnicity are significant barriers, but socioeconomic factors create additional barriers as well.
* We couldn't leave undiscussed the effect of religious-based bigotry coming from the pulpit including the Barack Obama/recloseted homosexual Donnie McClurkin flap).
We ran over time because people in the audience were very engaged and wanted to continue the Q&A. I'm hopeful that more panels and discussions of this nature can spring from this session.

Mandy Carter.
***
The gala, held at the Nasher Museum was a great event, and it included a tribute to Joe Herzenberg, the founder of Equality NC PAC. He died this past week. Herzenberg was the first openly gay elected official in the Tar heel state, serving on the Chapel Hill Town Council. A close friend of Joe, Mike Nelson, Equality NC's board chair, shared his thoughts about the significance of Joe's work.
NC Speaker Joe Hackney (D-54) introduced Rep. Rick Glazier, the recipient of Equality NC's legislative award. About Rep. Glazier
North Carolina Representative Rick Glazier is presently serving his third term in the North Carolina General Assembly. He is an employment and labor law attorney with a personal background of neighborhood involvement and extensive public service. Rep. Glazier has emerged as an important and respected leader for the state, and as an eloquent and courageous spokesman for the safe schools bill that was passed by the North Carolina House this year, the first time in North Carolina history a bill protecting people based on sexual orientation and gender identity passed either chamber.
The Equality NC staff, volunteers, boards and foundation did a wonderful job on its first event of this kind — the execution was amazing and the enthusiasm level was high. The corporate sponsorship and support was truly outstanding as well.
Many thanks to Alabama State Rep. Patricia Todd and her partner Jennifer for participating in this event. Patricia's story electrified and motivated this crowd.
NOTE: Kate took a lot of video at the conference and the gala, so I'll have to have time to slice and dice. I'll put that in a separate post. Here are a couple of pix: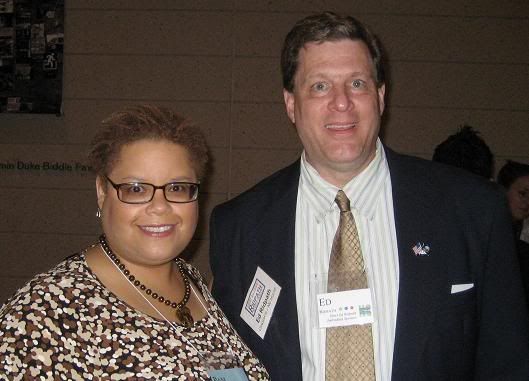 Ed Ridpath, who will unseat the hateful Paul "Skip" Stam in NC House 37 (one of the architects of the marriage amendment that we have to keep working to bottle up in committee each year). Ridpath's district is one of the fastest growth areas (Apex, Cary, Fuquay Varina, Holly Springs, New Hill, Willow Spring).

Yes! I finally caught up with Jim Neal, Dem candidate for U.S. Senate. He plans to send Liddy Dole packing to permanent residence at the Watergate Hotel, since we all know she spends little time thinking about the needs of North Carolinians.
***
8:45-9:15
Registration
9:15-9:45
Welcome and introductions
Addison Ore, Executive Director, Board Chair, Equality NC Foundation, Greensboro
9:45-10:15
The State of Equality in North Carolina
Ian Palmquist, Executive Director, Equality North Carolina, Raleigh
10:15-11:00
Opening keynote: Alabama Representative Patricia Todd
Introduced by Pam Spaulding, Blogger, Pam's House Blend, and Member, Equality North Carolina Conference Committee, Durham
11:00-11:30
Coffee break
11:30-12:45
Breakout Sessions (click title for speakers)
12:45-2:15
Networking Lunch
2:15-3:30
Breakout sessions (click title for speakers)
3:30-4:00
Break and Afternoon Refreshments
4:00-4:45
Walking the talk: Panel discussion with pro-LGBT members of the North Carolina General Assembly
(Sponsored by Replacements, Ltd.)

Moderated by Laura Leslie, Capitol Reporter and Blogger, Isaac Hunter's Tavern, WUNC Public Radio
N.C. Senator Janet Cowell, Raleigh
N.C. Representative Tricia Cotham, Charlotte
N.C. Representative Rick Glazier, Fayetteville
N.C. Representative Pricey Harrison, Greensboro
N.C. Representative Deborah Ross, Raleigh

4:45-5:30
Closing Keynote: Neil Giuliano, Executive Director, Gay and Lesbian Alliance Against Defamation, and former mayor of Tempe, Arizona
Introduced by Mike Nelson, Orange County Commissioner and President, Equality North Carolina
Gala Champagne Reception at the Nasher Museum of Art
6:30-7:30
Special pre-reception for major donors and corporate sponsors (invitation only)
7:30-9:30
Gala Reception and Awards Presentation

Presentation of the 2007 Equality North Carolina Award for Legislative Leadership to Representative Rick Glazier, Member of the North Carolina House of Representatives
Award presented by Joe Hackney, Speaker of the North Carolina House of Representatives
With special guests Alabama Rep. Patricia Todd and GLAAD President Neil Guiliano