Report: DSCC scrambled to find hetero challenger to run against Elizabeth Dole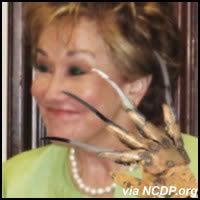 Sen. Chuck Schumer, the head of the Democratic Senatorial Campaign Committee, which is charged with electing Democrats to the United States Senate, asked State Sen. Kay Hagan to run. She initially showed interest in challenging Elizabeth Dole, but she stepped aside when the DSCC decided to favor prospect state Rep. Grier Martin. When Martin didn't bite, the Dems were left without anyone to field against Liddy Dole, a weak, ineffective tool of the Bush Administration.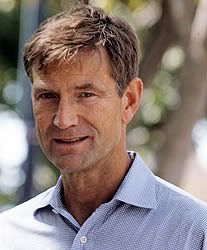 In jumped businessman and NC native Jim Neal. In the process he also announced matter of factly that yes, he was gay, and that he was running on the issues and was ready to sweep Dole out.
The first sign something was afoot at the DSCC is that two weeks after Neal announced, his presence was nowhere to be found on its site as a challenger.
Hagen then miraculously announced last week that she had a change of heart and was getting in the race. Suddenly, the same day she announced and her web site went live, the DSCC web site was updated with all announced challengers.
The PC reason cited for Hagen getting in was that Jim Neal's chances for beating Elizabeth Dole were slim because he's a political newcomer (though he is a proven fundraiser), and he has little name recognition. That is completely disingenuous (Hagen doesn't have name rec either). We're not talking about a conspiracy; we're talking about strings being pulled because pols here didn't want to back an openly gay man already out there. From the Southern Political Report:
The inside story, according to one Raleigh source, is that both Democratic Senatorial Campaign Committee Chair Chuck Schumer (D-NY) and ex-Gov. Jim Hunt (D-NC) had asked Hagan to stay out of the race in favor of state Rep. Grier Martin (D). Hagan agreed to step aside for Martin. Then Martin, son of popular former Charlotte congressional candidate D. G. Martin, backed out, leaving Neal as the only significant contender.

Schumer and Hunt then went back to Hagan, an influential member of the state senate, and asked her to get back in the race. Moreover, given that Neal, 50, though a North Carolinian by birth and education, had lived in New York and Los Angeles until a year ago, there is some doubt about whether he would be a strong nominee even were he not gay. (Neal has, however, raised money for Tar Heel Democrats in the past.)

Another informed Raleigh source tells essentially the same story, but adds that once Martin bowed out and some Democratic powers-that-be found out that Neal is gay — which was known to his friends and family but not to the public at large — "they intensified their pressure on Kay" to get back in the race, "for fear that [Neal] would bring down the rest of the ticket." A Charlotte source adds, "I'm sure that some people see [being gay] as a non-starter in North Carolina."
Some people. You know, the unnamed people that never seem to want to go on the record. More after the jump.Primary voters will ultimately decide on the issues; it's clear that those who wouldn't vote for Neal under any circumstances because of his orientation, would probably vote for Dole again anyhow.
This behind the scenes PC dance shows the two-faced nature of the Democratic party — the complete lack of institutional respect for Jim Neal's candidacy based on his orientation. Would they be making moves to ensure a "mainstream" (re: white) candidate got into the primary race if the only announced Dem candidate for the U.S. Senate was Latino? Less than 5 feet tall? Had a pierced ear? What other characteristics completely irrelevant to the candidate's message or qualifications requires an "intervention" by people in the party that don't ever set foot in the state?
The real question for the DSCC is when will it ever be time to back an openly candidate in North Carolina, if the party preaches in public that one's orientation has no bearing on his ability to hold office? The message telegraphed is that this one quality alone is sufficient to deep-six a candidate, so why bother fielding one at all.
Let the Republicans defend their homophobia, why enable it? Or even worse, ape it under the guise of "electability" even at the primary level? What are they afraid of, hmmm? The people will decide.
BTW, I have nothing against Kay Hagan, other than she's allowing herself to be a participant in this game. No surprise; she's a politician. For those complaining that progressives are calling Dems out on this, too bad; take responsibility for the plain truth of the political game that is being played. Own it.
As I said in my earlier post:
The fact of the matter is that Jim Neal's orientation will be made an issue by the GOP no matter what. For a gay pol these days to deny it and attempt to remain professionally closeted, given the fear and smear tactics of the GOP is, in my mind, futile, particularly if he or she is socially out.

…Mrs. Dole's heterosexuality clearly gave her no advantage in this vein — she has done zero for the state as she rubber-stamped the destructive policies of this president, so clearly one's orientation has no bearing on the ability to serve the people. If the GOP wants to go there, fine — they are going to have a dickens of a time defending Liddy's record and its impact on this state.
Jim Neal's official campaign web site is here. His ActBlue page is here.