Team Obama: recruiting a white pastor=bad idea
[UPDATE (10/26, 1:45 PM): I just spoke with the pastor directly — he identified himself — and stated plainly that he's white; since the question was still open in some minds — and he didn't state affirmatively in Mike's interview, I decided to put that to rest.]
It's funny, I couldn't tell from the picture whether Rev. Andy Sidden, pastor of Garden of Grace United Church of Christ in Columbia, SC was white. After all, I have a family full of relatives who aren't any darker than Sidden.
It boggles the mind that the Obama campaign would select a white pastor to deal with a situation that is awash in black homophobia. Politics 101.
Rev. Sidden is supposed to counter the presence of the recloseted/now-decloseted anti-gay Grammy winning gospel singer Donnie McClurkin at the "Embrace the Change" concerts in South Carolina, sponsored by the Obama campaign. Sadly, Sidden is now an unfortunate victim in this debate. I'm sure that whatever message he would deliver would be sensitive and entirely appropriate in many ways, but part of the message has to be that you can be black and gay, and black and gay-affirming. Barack Obama is clearly showing he doesn't understand the need of the religious black community to see one of their own deliver that message.
Sidden was on The Mike Signorile Show today. I just spoke to Mike (will have audio later), and he said that Sidden didn't consider himself very politically active, and that he accepted the mission not because he was an Obama supporter, but because he couldn't turn down anyone asking him to pray. One of the reasons for his selection, he said, was because he was a UCC minister — and because he was openly gay. When Mike asked if Sidden was chosen because of his race, he said no, and did not deny Jasmyne Cannick's description of him as white in her post on the matter.
The last thing a crowd of black folks who have a problem with homosexuality needs is: 1) to be "told" by the Obama campaign that a message about tolerance must be delivered from a white voice of faith, and 2) to have their beliefs confirmed that being gay is "a white man's perversion." Coming from a white pastor under these circumstances, can only be seen as paternalistic and patronizing; the shields of defensiveness will go up, the message will be ignored.
The most stinging message that the Obama campaign has sent is that they apparently didn't see the relevance or necessity of removing the ability of religious blacks to stay in denial, that somehow there is not an intersection of being black and gay. This move renders us invisible yet again, as politically expendable, because it telegraphs that it's too politically volatile to address the division in the community by having them confront one of their own — black gay and gay-affirming ministers — when it comes to looking at bigotry.
Alvin McEwan of Holy Bullies and Headless Monsters:
We have been given the hook, pushed to the side, had the trapdoor to the alligator pit released under our feet.

LGBTs of color haven't been just pushed to the back of the bus in this controversy. We have been kicked off of the bus and told to find our own way home.

Perhaps Obama's people couldn't find an openly gay black pastor in time for the event? I don't know. I guess I will give them a little slack.
No, I can't cut these folks any slack. Did they ask the National Black Justice Coalition for a recommendation for a pastor? I certainly saw a whole lot of them when I attended the organization's National Black Church Summit this year.
Again — could the Obama campaign not type Google.com in their browsers?
Why look, here are four right here…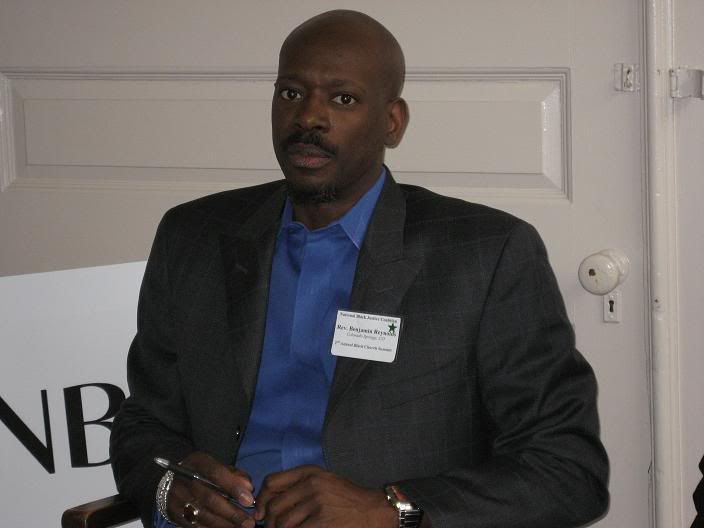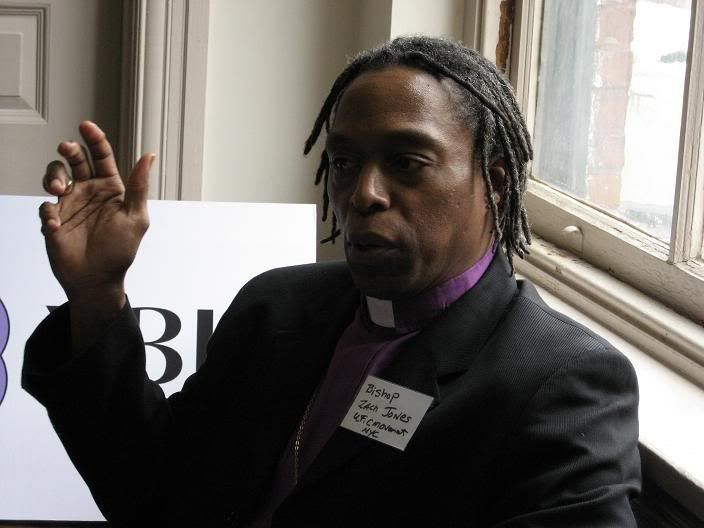 Rev. Dr. Michael Eric Dyson, Rev. Benjamin Reynolds, Rev. Zach Jones and Rev. Dyan McRay.
I even had audio up of these folks for the feeble Obama camp to listen to if they wanted to do some research.
What about Rev. Deborah Johnson? Bishop Yvette Flunder? Rev. Irene Monroe?
Forget surfing the web — Obama and his staff were obviously present at the CNN's YouTube Presidential debate. Did they have iPods on when Rev. Reggie Longcrier, pastor of Exodus Missionary Outreach Church in Hickory, N.C. asked this question of John Edwards?
Sen. Edwards has said his opposition to gay marriage has been influenced by his Southern Baptist background. We know religion was once used to justify slavery, segregation and women not being allowed to vote, all of which today are recognized as unconstitutional and socially and morally wrong. So why is it still acceptable to use religion to justify denying gay and lesbian American their full and equal rights.
Certainly I would have had Longcrier on speed dial after that.
Then again, perhaps no gay or gay-affirming black pastors were willing to extract Obama from this mess of his own making. Who knows at this point.
Terrance has a couple of suggestions in his post "Obama's Crap Sandwich, With Extra Homo", if you Obama folks (that is, if you still have your jobs) — Rev. Horace Griffin, author of Their Own Receive Them Not: African American Lesbians And Gays in Black Churches and Rev. Irene Monroe as well.
Political amateur hour, folks. You have to wonder what was going through their heads.