DSCC — Where's Jim Neal?
Let's start off with a positive quote of the day from Jim Neal, who's challenging the pathetic Elizabeth Dole for the U.S. Senate:
"I believe that fear keeps many talented people from running for public office. That was something that I quickly got beyond. I wouldn't do this otherwise. I'm in it to win, period."
— from an interview with Neal by Gary Robertson of the Winston-Salem Journal. Neal, an out gay man, also said that he pledges to keep the campaign where it belongs — about The Empty Wig's record, calling it "very, very thin on achievement."
***
The Democratic Senatorial Campaign Committee's mission is to elect Democrats to the United States Senate.
We are the largest organization solely dedicated to electing a Democratic Senate in the country. From grass-roots organizing to candidate recruitment to providing campaign funds for tight races, the DSCC is working hard all year, every year to increase the number of Democratic Senators.

We are gearing up for the 2008 elections. With George W. Bush in the White House and his continuing hard right agenda, it is essential that we gain even more seats if we are to promote fundamental Democratic ideals of fairness, equality, and freedom.
It's interesting that Jim Neal isn't listed on the Elizabeth Dole page as a challenger. I took a screenshot of Dole's entry on the DSCC page this AM (7:30):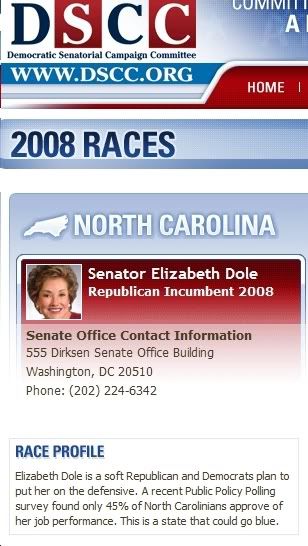 Click over to some of the other Republicans up for re-election. If there's a declared Dem candidate, you'll find that challenger listed. Look, for instance, at the page with Alabama's Jeff Sessions. And in the case of Ted Stevens, the DSCC even lists a rumored challenger: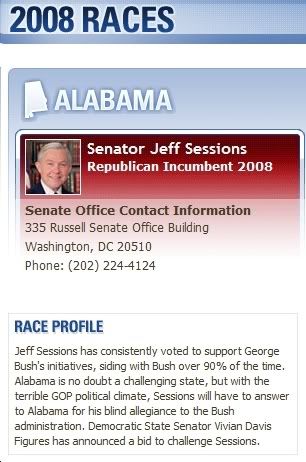 Of course, maybe the DSCC just hasn't updated its page to put Jim Neal up there yet. I guess folks could ask them to find out what the deal is…
Related:
* NC: Out gay Dem runs to unseat Elizabeth Dole in U.S. Senate