Crazy Pat pic on Facebook gets Regent Law student in hot water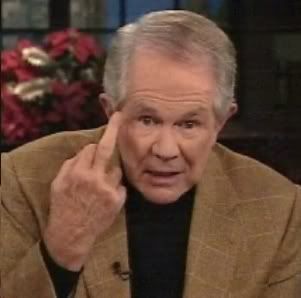 The photo at left is a screenshot from a YouTube video, "Pat Robertson flips the bird." Regent University is the fundie lawyer-generating institution of the 700 Club host. One of its students, Adam Key who describes himself as a "liberal Christian," decided to put the image of Pat on his Facebook page, and lo and behold, the powers that be decided to take Key to task. (Pilot Online):
The student, Adam M. Key, defended his action as constitutionally protected free speech in a 14-page legal brief he presented to the dean of the law school.

Regent officials gave Key two choices: publicly apologize for posting the picture and refrain from commenting about the matter in a "public medium," or write a brief defending the posting. He faces punishment that could include expulsion.

…Key said that Jeffrey Brauch, dean of the law school, rejected his brief and that he now awaits disciplinary action under the university's Standard of Personal Conduct. At one point during the controversy, Key said, he was escorted by three armed security guards from the university's public relations office.
What kind of thuggery is that? Key, however, is unlikely to prevail.
Unlike public institutions, private universities do not have to adhere to First Amendment guarantees in enacting codes of student conduct, said Howard Wasserman, visiting associate professor at the Saint Louis University School of Law.

"But in my view, any university, in its role as a place for robust and uninhibited debate, should commit itself to the principles of the First Amendment, even if it offends the president," said Wasserman, who has written about free-speech issues. He noted that Regent, as a Christian school, "may have a different view of how the speech issue fits into its mission."
Look at the charge leveled against Key for posting the image. Gasp!
A few days after the picture was posted, Key said, he received an e-mail from L.O. Natt Gantt – the law school's associate dean for student affairs and a graduate of Harvard Law School – asking him to meet with Gantt and Dean Brauch.

Two meetings ensued, during which Brauch and Gantt told Key the photo was "profane" under the university's standards, which allow the publication of such materials only in an "appropriate academic context."
Hat tip, Thomas.