Santorum's ready to serve the people again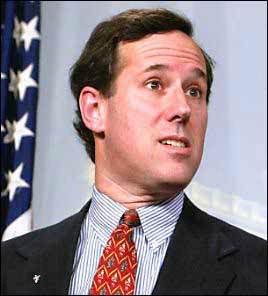 Little Ricky Man-on-Dog Santorum wants another crack at elected office.
The former Pennsylvania GOP senator, trounced in his re-election bid last year by seldom-seen Democrat Bob Casey Jr., apparently has grown weary of beating the drums about the ongoing terrorist threat as a senior fellow with the Washington-based Ethics and Public Policy Center.

The American Spectator reported last week that Santorum is seriously mulling a run for governor in 2010, when the race will be wide open. Term limits will force current Gov. Ed Rendell from seeking a third term.

…Of course, a Santorum gubernatorial bid is dependent on the Virginia resident being agreeable to actually living in Pennsylvania again. When he was a senator, you may recall, he found that idea abhorrent.