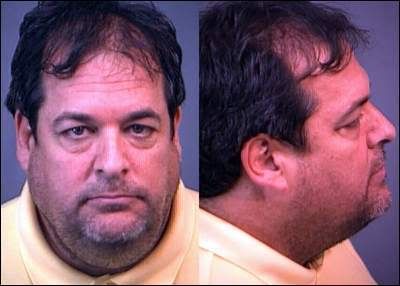 Mark your calendars — Florida State Rep. and laughing stock of the ages, Bob Allen (R-Merritt Island), will have his trial moved to November.
Allen was arrested back in July on charges he offered an undercover officer money in exchange for a sex act.

His attorney had asked the court for more time to prepare because he said the prosecution only recently gave him some of the evidence he needs to examine.

A judge said Allen could either go to trial on Wednesday or waive his right to a speedy trial. His attorney chose to delay the case.

Allen was charged in July with offering an undercover officer $20 for the opportunity to perform a sex act on that officer.
As you might recall, Allen's series of excuses as to why he was in the restroom were quite entertaining:
* Allen said he went to the bathroom to avoid a lightning storm that was about to start.
* According to his statement he was intimidated by the "stocky black guy" (the police officer) and there "was nothing but other black guys around in the park" and that he believed that he was about to be robbed.
He also said that — he plans to run for the state Senate in 2010: "I'm waiting for the politics to say it's OK to hug Bob Allen again — and they will."
Click here for related posts on Allen.
A case of a man of the cloth getting busted for cruising in NC is after the jump.While on the subject of potty cruising for man-on-man action by "straight" upstanding male citizens, take a look this latest pathetic case in Western North Carolina.
Fr. Michael Penland was charged on June 28 with "soliciting for a crime against nature" in Waynesville Recreation Park after he allegedly asked an undercover officer to go home with him and have sex. On Sept. 5, Episcopal Bishop Leo Frade suspended Fr. Penland from his priestly duties at St. Gregory's Episcopal Church in Boca Raton.

…The report does not depict any sexual behavior taking place in the bathroom, public park or in Penland's vehicle. It only states that Penland propositioned the undercover detective to engage in anal sex at a private location.
The problem here is that he was busted for cruising to have sex in private, a far cry from what Larry Craig's intent was. Dan Savage at Slog:
As gay journalist and one-time toilet cruiser Rex Wockner proved, Craig's actions meant one thing and one thing only. Craig didn't invite that undercover to accompany him to Idaho. He intended to get it on in that airport toilet.

Now do I think paying cops to sit in cruisy toilets at aiports is a wise use of police resources? No, I don't. But getting it on in public restrooms is illegal, and I'm not going to rush to the barricades to defend closet cases, straight men with a taste for cock, or the odd openly gay sexual adventurer. I agree with the ACLU: if a public restroom becomes a cruising spot, "[the police] should put up a sign banning sex in the restroom and send in a uniformed officer to patrol periodically."

But I will man the barricades to defend Father Penland. It is not illegal for for one man to hit on another; a pass may be unwelcome, and it may be ill-advised (Waynesville, N.C.?), but it is not a crime — against nature or anything else.
Yeah, I wouldn't imagine the minister had an ounce of common sense if he was cruising that part of the state, that's insane.
Hat tip, zbriboy8.