Untangling the latest GOP gay scandal with Mike Signorile
I'm scheduled to be on the Michelangelo Signorile Show (Sirius Satellite Radio's channel 109 OutQ) today around 3:30 PM ET. (He also links over here from his blog The Gist).
We're going to try to wade through the convoluted latest, woefully under-reported GOP scandal — the bizarre murder-suicide in Florida of a Republican consultant and two of his "friends". Some of the facts:
* the bodies of Republican political consultant Ralph Gonzalez, 39, president of The Strategum Group, his roommate David Abrami and "a friend," Jason Robert Drake, were found in the house of Ralph Gonzalez.
* Gonzalez served with the Republican Party of Florida's House Campaign Division and executive director of the Georgia Republican Party and counted the Alabama Republican Legislative Committee as a client, producing an anti-gay flier accusing a Dem candidate of supporting marriage equality.
* A newspaper, Florida Today, initially reported that there were signs of a struggle, printing "Lovers' fight may have sparked three deaths" as its headline. The paper later scrubbed any references to a love triangle.
* BradBlog has shown the ties between Gonzalez and Florida's vote-tampering congressman, Tom Feeney. From Pat Go Bye Bye:
Gonzalez, who was out to his friends, had ties to Ralph Reed when he took over the Georgia Republican Party and used unethical tactics to beat Senator Max Cleland. He was also the campaign chair for the ethically-challenged Tom Feeney's congressional campaign as well as his state rep campaign after which Feeney became house speaker and got involved in a software-buying scandal involving Yang Enterprise. Feeney is best known for his vote-rigging scheme (which has ties to an unexplained death of a Florida state investigator in Valdosta GA), Jack Abramoff, and a variety of unethical smear tactics against Democratic candidates.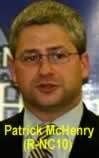 * Republican Congressman Patrick McHenry has ties to Gonzalez and Drake, the latter was determined to be the shooter in the murder-suicide.
* McHenry's office initially denied knowing Drake but confirmed later that McHenry did know him, but didn't specify the nature of the relationship.
* Drake was also allegedly tied to a gay escort service in Virginia; the prostitution angle — and who it extends to — is very murky at this point, with few sources on the record.
The people and relationships involved are almost too convoluted to follow; here's more:
* Patrick McHenry is also affiliated with outed former National Field Director of the RNC Dan Gurley. According to NC Conservative, McHenry "owes his seat to Dan Gurley" — with Gurley working with Drake on McHenry's behalf.
* McHenry's apparently a good friend of the former National Young Republican Chairman, Glenn Murphy. Yes, that Glenn Murphy — the one arrested for sexually assaulting a sleeping man, performing oral sex on him (image of police report here). McHenry supported him for the National Young Republican Chairmanship.
* Pat's deputy field director Brett Keeter blew a 0.13 on a DWI recently, and received a two-week suspension and alcohol education classes. Keeter, as a Region IV director of North Carolina Federation of Young Republicans allegedly also pressured the College Republicans National Committee to endorse Glenn Murphy for the chairmanship.
* Another big problem for McHenry recently was the saga of Michael Aaron Lay, field coordinator for McHenry's 2004 campaign. He was indicted for voter fraud in North Carolina.
At the time Lay was listed as a resident in a home owned by 32-year-old McHenry but campaign records indicate Lay's paychecks were sent to an address in Tennessee. McHenry won the primary by only 86 votes. According to Gaston County, North Carolina District Attorney Locke Bell, Lay was indicted on Monday, May 7 by a local grand jury.
Lay accepted deferred prosecution on Aug. 8 and with unsupervised probation for six months. Mike Rogers of BlogActive uncovered more than just Lay listed as living at McHenry's address, btw (he has scans of the documentation on the site). No less than three other men listed their residence as McHenry's pad in Cherryville, NC. I have no idea what that's about, but it surely is worthy of investigation.
And if you thought that was all that was dogging Patrick McHenry, take a look at the latest bit of business passed on today — at least $182,000 of McHenry's 2004 campaign funds ($923,975) came from an organization donating under fraudulent circumstances. That's almost 20% of McHenry's campaign war chest. Who is behind that? It just keeps on coming, folks. It's below the fold.Via Pat Go Bye-Bye and BlueNC:
Last week the Citizens Club for Growth PAC paid $350,000 to settle an FEC lawsuit which

arose after the Democratic Senatorial Campaign Committee filed a complaint with the FEC in 2003 alleging that the group was violating federal election laws. After an investigation, the FEC concluded that the 527 was required to register as a political action committee because it was accepting contributions and engaging in activities intended to influence the outcome of federal elections.

According to FEC Schedule E report the Citizens Club for Growth had funneled the McHenry donations through an organization called Red Sea LLC:

Red Sea LLC
1111 19th Street NW
Suite 211
Washington, DC 20036

Purpose of Expenditure: tv air buy

This Committee SUPPORTS The Following Candidate: PATRICK TIMOTHY MCHENRY
Candidate ID: H4NC10047
Office Sought: House of Representatives
State is North Carolina in District 10
Date Expended = 08/12/2004
Amount Expended = $49790.00
Calendar YTD Per Election for Office Sought = $182440.7

Red Sea is an invention of a former communications director for the disgraced Tom DeLay, Jonathan M. Baron.
That said, McHenry isn't the only pol who benefited from Citizen's Club for Growth — but the Congressman from NC only won his primary by an 84-vote margin, so it's clearly relevant to look into, as well as any other irregularities in McHenry's financial documentation.
The mainstream media is negligent if it doesn't get off its duff and investigate all of this.
What does it all add up to? Who knows. We'll try to make some sense of this on Mike Signorile's show.
Anyway, that's just another look at the outer edges of the sordid tales. You can read more at Pat Go Bye-Bye, Scrutiny Hooligans, BlueNC, Howie Klein at Down With Tyranny, Judson Cox at NC Conservative, and InterstateQ (and here).
***
For a gut-busting take on some of this fracas, read The General's "Can Rep. McHenry's Hostel for Strapping Young Republican Lads survive this?" — a letter sent to Senate Minority Leader Mitch McConnell. A snippet:
I'm especially worried about Rep. Patrick McHenry. His name seems to be coming up a lot in connection with that GOP heterosexual naked wrestling triangle's murder-suicide investigation. One of the dead men, anti-homosexual political strategist and former executive director of the Georgia Republican Committee Ralph Gonzalez, was connected with a service that would send men to hotel rooms to help husbands get what they wanted. He is also said to have been Rep. McHenry's close personal friend, perhaps even a former guest of Rep. McHenry's Hostel for Strapping Young Republican Lads.

How do you expect him to explain himself if it comes out that he too loves to occasionally suck a little soldier in a completely heterosexual manner? You've pretty much sealed his fate, haven't you? Perhaps you've sealed your fate as well, and Grahams and Dryers too for that matter.