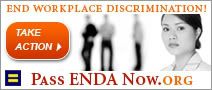 HRC Back Story's Chris Johnson liveblogged the Employment Non-Discrimination Act (ENDA) hearings of the Health, Employment, Labor and Pensions (HELP) Subcommittee of the U.S. House Education and Labor Committee. Read up on what transpired in these posts:
* ENDA hearing witness give powerful and emotional testimony on the need for federal non-discrimination employment legislation . The liveblog post features a recap on the testimony of Officer Michael Carney and Brooke Waits, who faced discrimination by their employers. Waits was fired after her supervisor looked at her cell phone and saw a picture of her kissing her girlfriend.
* Members of Congress speak in favor of ENDA at subcommittee hearing . Recap of the testimony of Congressman Barney Frank (D-Mass.), Congresswoman Tammy Baldwin (D-Wisc.), and Congressman Emanuel Cleaver (D-Missouri).
* ENDA will put in place federal protections that will benefit real people. Commentary by HRC public policy associate Dena Wigder, on the testimony of opponents of the bill: their reasoning is that prohibiting employment discrimination for LGBT workers will be a "burden" for employers.