My Bed-Stuy
Today is family cookout day in Bed-Stuy. Our block won "Greenest Residential Block in Brooklyn" this year, thanks due largely to my relatives. They put in an huge amount of time and effort coordinating the project — and it shows (see coverage in The Gothamist). A couple of pix are below, and quite a few more of the neighborhood after the jump. It's even more "green" this year; the flowers are crazy, with large barrels of them lining the sidewalks and cascading down staircases of people's brownstones.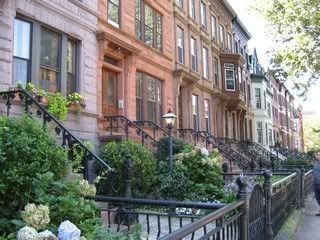 My aunt said that, unlike down South, they've had tons of rain up here. (We have never watered our minimal NC lawn — and it's obviously wasteful to do so during a drought. I know in Raleigh they have been levying fines on homeowners who have been watering their lawns. What is wrong with people?! The flipping grass will grow back.)
I lived on this block in the mid to late 1980s; this part of the neighborhood is a designated historic district called Stuyvesant Heights. All of my late mom's siblings were born in various parts of Bedford-Stuyvesant around the time of the Great Depression (she was one of 14 kids!).
My uncles purchased the house on this block for a song a long time ago, when Bed-Stuy was going through tough times, as was much of the city during the 70s and 80s. One thing that was always consistent, even to this day, is that generations of black families own many of these beautiful, large brownstones, and it's been revitalizing block by block due to hard work of residents. My NY cousins are part of that effort as well; many of them have stayed or chosen to settle here in Bed-Stuy.
More after the jump.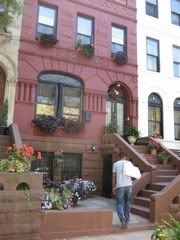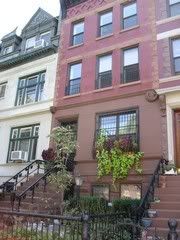 My brother, who hasn't been back since about 2002, was marveling at the changes since his last visit; mom-and-pop stores, including coffeeshops (Bread-Stuy, with free wifi!), an indy bookstore and restaurants that are flourishing, there's a farmer's market each Saturday; people stroll the quiet streets late at night, Stuyvesant Park is well-tended and gorgeous, as is the Utica Avenue subway station on the A line, only a few blocks away. We both laugh because we actually see a police presence here — walking the beat. Back in the day, you rarely saw the NYPD on the street like that, even when you called — and it wasn't clear whether you were going to be on the receiving end of the nightstick as a mistaken perpetrator, particularly if you were a young black man.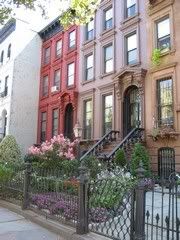 Our block is somewhat unusual as we have a few free-standing historic houses on large lots as well as brownstones. One is a beautiful, insanely successful bed and breakfast across the street from my relatives' free-standing house — the Akwaaba Mansion, run by long-time neighbors who now own several B&Bs around the country — including one in Dupont Circle. Again, these are hard-working people who took a house in need of TLC who saw the potential of both the house and the neighborhood. In fact, Kate and I couldn't even afford to buy a house here now, even a fixer-upper. New York real estate is ridiculous. Anything within reasonable walking distance of a subway line is prized.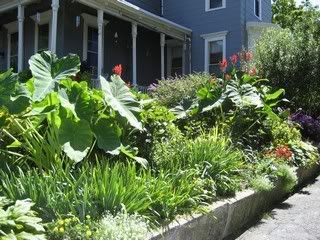 Also quite different from the time I lived here is the presence of white residents — singles and families are moving in. Within the lifetime of my 70-something relatives, Bed-Stuy went from a multi-racial, multi-ethnic community to an all black one. If you've seen the Ric Burns documentary series about NY, it does a good job of covering the practice of redlining (mortgage discrimination in this case) that resulted in the racial balkanization of the outer boroughs — Bed-Stuy rapidly became all black as a result. It's an interesting irony that re-integration/gentrification is occurring so quickly now, relatively speaking — because of the inaffordability of housing in New York.
I find New York frustrating and fascinating all at once; city living can be energizing or stressful depending on your constitution (and the size of your wallet). I sometimes imagine moving back — hey, NY may fully recognize our Canadian marriage some day soon — but my Southern roots still draw me back to NC to a slower pace of life.