Breaking: U.S. Senator Larry Craig busted for lewd conduct in airport men's room
Welcome Perez Hilton fans. You can read my update posts on Craig as well — Larry Craig – GOP sexual hypocrite with a 'wide stance' and Mike Rogers on Larry Craig, and the pathology of the closet.
[UPDATE: Sorry the site has been down. I received serious link love (4000+ hits/hour) on this post from PerezHilton and it blew up the host server. Paul @ Soapblox said: "We've had tons of huge traffic spikes from OpenLeft's launch, to election day last year, to huff po and fark, and all sites of links from all sites of big people. Dkos too. Yes it's Perez Hilton that does it!" Yes friends, the Blend literally blew it up big time!]
He pleaded guilty, folks. This was kept under wraps for some time. The question is, will he take pointers from Florida State Rep Bob Allen when he discusses his public foray into man-on-man action for the press? It's all a big misunderstanding, you know. I wonder if there were any scary black men or lightning storms near the airport.
Sen. Larry Craig (R-Idaho) was arrested in June at a Minnesota airport by a plainclothes police officer investigating lewd conduct complaints in a men's public restroom, according to an arrest report obtained by Roll Call Monday afternoon.

Craig's arrest occurred just after noon on June 11 at Minneapolis-St. Paul International Airport. On Aug. 8, he pleaded guilty to misdemeanor disorderly conduct in the Hennepin County District Court. He paid more than $500 in fines and fees, and a 10-day jail sentence was stayed. He also was given one year of probation with the court that began on Aug. 8.

A spokesman for Craig described the incident as a "he said/he said misunderstanding," and said the office would release a fuller statement later Monday afternoon.

After he was arrested, Craig, who is married, was taken to the Airport Police Operations Center to be interviewed about the lewd conduct incident, according to the police report.
Mike Rogers has been on the case re: Craig for some time now (Senator Larry Craig…. What's with the gay bashing?).
Craig's hysterical denials from the outing back in October 2006 now look hilarious.
Sen. Larry Craig on Tuesday called allegations from a gay-rights activist that he's had homosexual relationships "completely ridiculous."

Mike Rogers, who bills himself as the nation's top gay activist blogger, BlogActive.com, published the allegations on his Internet site Tuesday. He repeated them on the Ed Schultz show, a syndicated liberal radio talk show.

…Craig, who is married, denied the allegations through his staff, saying they "have no basis in fact." Sid Smith, spokesman for the Idaho Republican, said it would be hard to independently check Rogers' sources, adding, "saying you have anonymous sources doesn't seem very convincing to me."

A lawsuit "isn't out of the question," but Craig hasn't considered it at this point, Smith said. "That would be taking it a little more seriously than it deserves," he added.
No lawsuit materialized, did it Larry?

Howie Klein from Down With Tyranny:
Idaho reactionary and well-known closet queen, Larry Craig, was arrested in a public toilet for misbehaving in a way closeted Republicans often do. So apparently it isn't just train stations' rest rooms that turn Senator Craig on.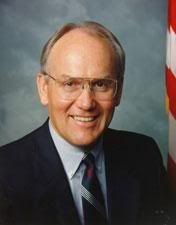 Idaho's Larry Craig on the issues:
* Voted YES on constitutional ban of same-sex marriage. (Jun 2006)
* Voted NO on adding sexual orientation to definition of hate crimes. (Jun 2002)
* Voted NO on expanding hate crimes to include sexual orientation. (Jun 2000)
* Voted YES on prohibiting same-sex marriage. (Sep 1996)
* Voted NO on prohibiting job discrimination by sexual orientation. (Sep 1996)
Craig has a 0% rating in HRC's 2006 Congressional Scorecard.
Related:
* October 2006: A hypocritical senator's closet bit the dust today
****
But wait, there's more. See how Mitt Romney's connected to this mess, and Freepermania after the jump.Larry Craig, up until a short while ago, served as a co-senate liaison for the Mitt Romney campaign. Here is what a Mitt mouthpiece, Matt Rhoades, announced.
"Senator Craig has stepped down from his role with the campaign. He did not want to be a distraction and we accept his decision."

Sidney Smith, a Craig aide in Boise, said Monday afternoon that the senator was "in the (Boise) area" but was declining to give interviews.
Mitt's campaign is backing away as fast as it can from the potty-sex Senator. Take a look at Mitt's YouTube page scrub job. He had a video of Craig lauding the former Massachusetts governor, but you can no longer play the video. Click the link on the page — it goes nowhere. And look at the direct YouTube page (screenshot below, click to enlarge).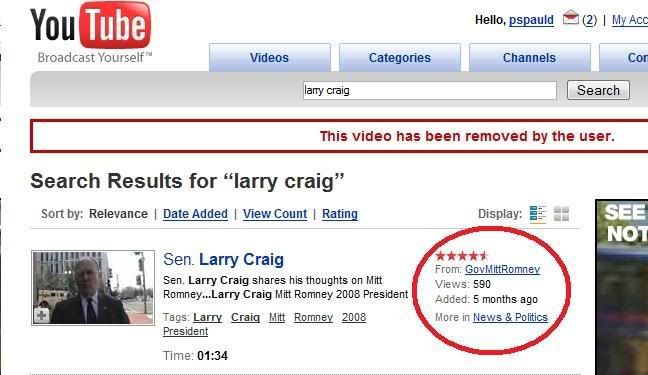 ***
What a blast from the past — a vintage Larry Craig denial:
ABC News report from 1982 — Rep. Larry Craig issues a preemptive denial regarding any involvement in a congressional sex and drug scandal.
H/t, C&L.
***
Freepers bleat about Larry Craig
You all have been waiting for it…some knuckle-dragging commentary from the swamps of Freeperland about conservative Republican U.S. Senator from Idaho Larry Craig's same-sex bathroom booty call. Enjoy!

Actual Freeper Quotes

Part of the perversion that is homosexuality; sex in public places.

I'm getting to the point where I just don't care about that-my rage at the betrayals overshadows all. Haggard, Foley, this kook. It seems that NO one speaks for us and acts for us.

It will be interesting being that he is a Repub if he will get millions for a book deal, a one hour show on Oprah, and multiple favorable reviews in the New York Times like Gov. Jim McSleezy who put the security of the entire state of New Jersey at risk.

OK, here is my latest conspiracy theory… enjoy! Homosexuals are deliberately infiltrating the GOP so they can say either (1) See, we're gay and we're Republicans, too! or (2) They can claim to be anti-homosexual agenda politicians, and then when they are caught, it makes the GOP look like the party of hypocrites. Either way it advances the homosexual agenda.

Scumbags like this absolutely disgust me. I have no particular problem with him being a degenerate (as long as he does so on his own time) but he has no business serving in a public office, and especially not as a Republican. Thanks for the 'gift that keeps on giving' Larry!

Yes, another case of Conservative Hypocrisy for the lefties to crow about. What's the equivalent on their side? Al Gore wanting to force everybody else to ride a bike while he flies private jets, etc. John Edwards bemoaning poverty while padding his expense accounts. The difference is that Craig is finished in public life, and Gore will continue to get Oscars and big speaking fees and Edwards will continue to run for President and rate respectful ass-kissing from the MSM. It's the double standard.

Foley left congress and Craig won't be far behind. His support for amnesty was enough for me to want him gone. This gay bathroom crap will end his career. Good riddance to an amnesty supporter

Larry Craig is toast. I certainly would not want to represented by a Senator who drops his pants in public. There is something seriously wrong with him – he needs help. But not on the taxpayer's dime.

I thought Republicans were Anti-Gay? Am I missing something here? The GOP apparently has Gays in High Places. And the Main Stream media rather than saying, The Republicans are not the narrow minded Cretins we make them out to be. Instead say another "Fag Republican" was caught. What gives? The Demorats love Gays until they are members of the GOP. Then they are dirty scoundrels? Two faced liars and hypocrits. That's what the Demorats are today. They hurl the Gay Insult when a GOP member is outed. If they out themselves as Demorats they are courageous. Otherwise they are Sexual Deviants.
And here's more…
The GOP needs to clean it's house of perverts and sodomites.

I agree. This looks very bad, indeed. He can use all the excuses that he wants, but I doubt that he will convince many that he was "innocent." I hope that he does the right thing for the GOP and decides not to run again for the senate. He is political toast. Unlike the Dems, Republicans care about sexual ethics.

Craig is not stupid. Expeditious? Expeditious?? The only thing he expedited was his eminent exit from the senate. And the self destruction of the republican reelection effort. These are the long knives. The Republicans need to pull out the long knives and do some exposes' on some of the democrats' sordid misbehavior.

[And my personal favorite —]

I think this is another Democrat setup. Anyone who says anything against gays nowadays is persecuted.

Nah, I think more likely the GOP bigwigs eventually knew about it and figured it will come out any way, dump it today under the flash of the Gonzales stories.