North Carolina: former "Christian" group leader pleads guilty to solicitation
My, my, it is a busy week. I can hardly keep up with these guys…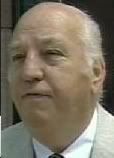 Former NC lawmaker, retired Baptist minister — and now-former Christian Action League president — Coy C. Privette pleaded guilty yesterday to six counts of aiding and abetting prostitution. He has to perform 48 hours of community service and receive counseling.
In July he was busted for doing the no-tell motel dance, paying to have sex with someone other than his wife. Pious Privette receives bonus Darwin points:
* he paid for the hotel rooms under his own name on six occasions;
* the prostitute took pictures of her with the former minister using her cell phone camera.
That left Privette with little other choice than to admit the hanky-panky. Outside the courtroom after the hearing, Privette passed out a statement that sounds vaguely familiar, right out of the Conservative Sexual Hypocrisy Manual.
Privette said he is going to dedicate considerable time and effort to "repair" himself.

"I am already seeking professional attention to this end," he said. "As I undergo much needed personal and spiritual reflection, I sincerely ask everyone to keep me in their thoughts and prayers on my journey to earn back the trust that I have lost."
A sad irony of the story is that the sex worker involved was arrested for prostitution by authorites, even though she cooperated with them on the bust, which involved a forged check case investigation.
According to the prosecutor the case started June 27 when a Cabarrus County bank refused to honor a check being drawn against Privette's account because it seemed high and called Kannapolis police.

A police investigator interviewed Tiffany Summers who said she had received the check from Privette. She also said she had sex with Privette on a number of occasions in two hotels.
Let's look again at the statement on morality on the Christian Action League's web site…
We are in the General Assembly of North Carolina with a full-time presence promoting legislation that is consistent with a Christian worldview. We advocate for those measures that strengthen the family and oppose legislation that would erode the family structure. We are the voice of conservative evangelical Christians in the State Legislature.

We discourage the promotion and use of beverage alcohol and other drugs, pornography, sexual immorality and other sinful practices that not only undermine the spiritual lives of those who participate in them, but also undermine the strength of our State and National character.
Hat tips, Bob in Raleigh and Paul.