My avatar
[I'm on day-long set of flights back to NC after the HRC/LOGO presidential debate, so play nice and create some nifty, if inaccurate, avatars.]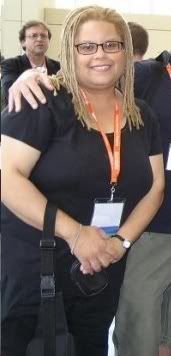 I was just surfing around before going to bed last night and found Yahoo Avatars and decided to see if I could create something that looked even remotely like me.
Skin tone: You're limited to 5 choices, I selected the middle one, kinda mocha.
Face: the proportion of lips/eyes/nose — not a lot of selections here to choose from. I picked "Face 9 w/Dark Brown Eyes.
Hairstyle: Something close to my locs, both in style and color, was actually available ("brown braids").
Apparel: Just as it is in the real world, you have a lot more options in clothing if you're thin. I guess I'm supposed to be grateful that Yahoo Avatars even has a "plus-size" option, though as you can see, she's not too large. Then again, the "normal" avatars are ridiculously thin by comparison. So, my avatar is wearing "Teal Print Tunic & Black Leggings."
Accessories: You can pick bags, jewelry, scarves and eyewear. I passed on all of these and just went for the glasses ("Black Narrow Glasses"). There's also a wide variety of fantasy accessories, pets, sports and hobbies that you can overlay on your avatar.
Background: I picked Coffeehouse Chat Background, natch.
The narrow options to represent oneself are a bit disturbing, but the palatte of humanity is hard to replicate online. The selections I made, given the intent was to accurately depict my physical self say quite a bit, though I'm not sure what, about self-image and representation. It also says quite a bit about the constraints the virtual palatte itself. Colors, shapes, sizes — and fashion sense — are limited by the imagination and world view of the creators of this particular online world.