Will the HRC/Logo forum address issues facing LGBT communities of color?
With many LGBTQ voters of African descent experiencing the downside of diversity by not being fully included in the both African American and gay communities the HRC-Logo debate is viewed as a white queer public soliloquy giving the illusion of inclusion.
— Rev. Irene Monroe, ordained minister, religion columnist, feminist theologian, questioning whether the HRC/Logo presidential forum will ignore critical issues of concern to the black LGBTQ community
I was just thinking about this issue when I received an email in my inbox from Bil Browning of The Bilerico Project, about an essay there by Reverend Monroe on a population largely unrepresented in either the coverage of or involvement in the forum — communities of color. Many, Monroe says, aren't even aware of the forum.
"Why would I know about this debate?," LaShaun Williams of New Orleans told me. "Before Katrina the black and white gay communities was separated. Now after Katrina even moreso because only those who have money either stayed during the city's renovation or had money to return back. Our community is smaller and more invisible than ever and the gay paper down here doesn't now and never have circulated where black folks live."
It's quite obvious to queer folks of color that "the movement" is overwhemingly white, well-to-do, urban-dwelling, internet-connected — and that means a different worldview (given human nature) about what issues are critical than what may be true in minority queer communities.
The queer community is a decisive electoral force that politicians have learned over the years, for their own campaign survival, that they must at least wink at.

But their winks have never cast eyes on this nation's black same gender loving communities. And the issues concerning white queer communities are indeed vastly different from the black community.

"We got an entire community dying of AIDS and I know the first question that's going to come out of somebody's mouth will be that of gay marriage," Rita Johnson of Detroit told me.

Social research shows that African-American same-gender households have everything to gain in the struggle for marriage equality and more to lose when states pass amendments banning marriage equality and other forms of partner recognition. For example, in November 2005, Equality Maryland and the National Black Justice Coalition published "Jumping the Broom: a Black Perspective on Same-Gender Marriage." And the statistics revealed the following: Forty-five percent of black same-sex couples reported stable relationships of five years or longer. And 20 percent of black men and 24 percent of black women in same-sex households are denied health care benefits for their partners by the government.
Marriage is important, but so is tackling the religious homophobia in the black community that drives discussion of sexuality, safer sex, monogomy and honesty deep into the closet.
More than one person of color frustrated by the lack of the gay white establishment's involvement in these issues has told me that it's always couched as a third rail issue — that they don't want to address black homophobia, for instance, because it's something that needs to be "dealt with internally," meaning it's up to LGBTQ blacks to handle it because the white establishment doesn't want to be perceived as "meddling" in a minority community's "issue."
Of course this is bunk. Homophobia is homophobia, and begging off any struggle simply because it's difficult to negotiate or makes one uncomfortable is a pitiful position to hold, given it's the very same message we've heard in the past from our alleged Democratic allies. How many times were we told back in prior election cycles that we (the gay community as a whole) are responsible for "winning over" the American public to convince them that our civil rights are important. We were told we were on our own because the political risk was too great for them at the time.
What, pray tell, is the difference?
It was enlightening to attend the much-ignored-by-the-MSM National Black Justice Coalition's Second Annual Black Church Summit held in Philly last March. It was a gathering of LGBT and gay-affirming religious leaders, the people at the front lines facing extreme disapproval from many in the socially conservative religious black community.
There was a debate between LGBT allies and leaders, including Rev. Dr. Michael Eric Dyson and Bush-supporting Bishop Harry Jackson, Chairman of the High-Impact Leadership Coalition. Jackson is strident in his opposition to LGBT rights.
[G]ay activists around the country are getting nervous that they are about to experience an embarrassing political setback. Instead of amending the hate crimes legislation that protects churches in a substantive way, they are simply crying out in a louder, more threatening manner. Gay advocates are not looking for fairness; they are looking for an upper hand.
— Jackson, in a Town Hall column.
The establishment LGBT rights movement has not, until recently, even addressed the success of the white evangelical movement in capitalizing on institutionalized homophobia in the black church, even though these churches should be wary of bedding down with a movement that otherwise wants nothing to do with black issues on any other occasion.
That's how deep the homophobia goes, and that's where support is needed, and why diverse voices need to be present at forums like the HRC/Logo program. The questions raised should be able to be seen and heard by all. Low-wealth LGBT citizens may not have cable or broadband. They are just as affected by the issues that will be discussed as the larger LGBT community of influence, yet many are left with the feeling, rightly or wrongly, intentionally or not, this is a "white-only" affair. There's a lot of work to do if people on both sides of the color line are willing to roll their sleeves up and deal with feeling uncomfortable and move forward.
Related: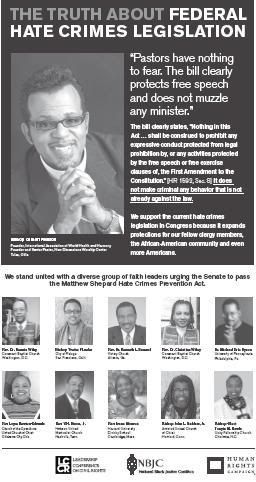 * Pro-LGBT black clergy ad counters misinformation on hate crimes legislation
* Reporting from the NBJC Second Annual Black Church Summit.