Open thread — bridge collapse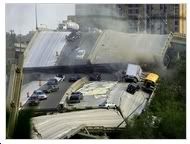 I first heard about the bridge collapse in Minneapolis when I arrived at my hotel room late last night. The thought that came to mind is that this could have happened anywhere.
So much of our infrastructure is aging or in need of repair. That steam pipe blast near Grand Central in NYC several days ago is the tip of the iceberg in that city. Most older cities have pipes close to if not more than 100 years old down there. They will fail at some point. I'm afraid that disasters like this will continue to happen because most elected officials responsible for funding infrastructure maintenance probably just cross their fingers and hope something doesn't happen on their watch.