Will a new documentary on Mormons help or hurt Mitt?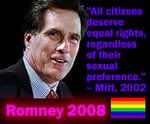 Here's a snippet of a press release about a documentary, 'A Mormon President' Uncovers Anti-Mormon Feelings, that is slated for release this fall. The film is by Adam Christing, a member of the Mormon History Association. It's hard to tell whether this is going to further inflame the evangelicals Mitt is courting — many believe LDS is a cult.
Production has begun on a new documentary film, A Mormon President, which explores the historical roots of current presidential candidate Mitt Romney's biggest challenge to being elected President: his Mormon faith.

"Very few people realize that Romney is not the first Mormon to run for the White House," noted Christing who studied theology at Biola University in Los Angeles. "The first Mormon to run for the Presidency was actually the first Mormon, the prophet, Joseph Smith. Those who want to understand Romney's challenge today, must first understand Joseph Smith."

…"Joseph Smith is one of the most captivating religious figures in U.S. history," noted Christing. " He was loved by nearly half the state of Illinois and hated by the other half. There is evidence that a political conspiracy was hatched to assassinate him shortly after he announced his run for President."

A Mormon President will be released in the fall of 2007 and will shed light on the deep undercurrent of anti-Mormon feeling in some parts of the country. Christing recently filmed at Haun's Mill in Missouri where 17 Mormons were brutally massacred in 1838. His crew entered a bar in a small town near the site of the massacre, and was stunned to discover that, for some of the townsfolk the 170-year-old tensions still remain. "That massacre never happened, the Mormons are a bunch of thieves, and we'll never vote for a Mormon president," Christing was told by one local.
Since the hard core bible beaters are quite fixed in their beliefs, I doubt anything is going to change their opposition to Romney, but it looks like Mitt's going to give it the old college try.
Republican presidential candidate Mitt Romney said Thursday he'll probably deliver a speech explaining the role his Mormon faith plays in his political life, but he argued he's made strong gains among evangelicals despite questions about his religion.

…During a campaign appearance earlier in the day, Romney was asked about his views on appointing a "God-fearing Mormon" to the Supreme Court. Romney has been asked about such matters frequently in question-and-answer sessions he holds almost daily. "I'd go after people who will follow the law and I wouldn't apply a religious test either," Romney said.

…In March, a Gallup poll found that 46 percent had a negative opinion of The Church of Jesus Christ of Latter-day Saints. The Southern Baptist Convention, the nation's largest Protestant group, considers the LDS church a cult and many other Christian denominations also do not recognize Mormon baptism.
It appears Americans in general are still cool to the idea of a Mormon president (Rasmussen Reports, Nov 2006):
Forty-three percent (43%) of American voters say they would never even consider voting for a Mormon Presidential candidate. Only 38% say they would consider casting such a vote while 19% are not sure (see crosstabs). Half (53%) of all Evangelical Christians say that they would not consider voting for a Mormon candidate.
It will be interesting to see whether Romney's speech about his faith will be well-received in this demographic; I'm not sure how the documentary will factor in the matter; it really depends on the point of view of the filmmaker.
Related:
* Conservative evangelicals in a tizzy over GOP presidential choices
* Fundamentalist "ex-gay" activist: Mitt Romney's beliefs disgrace the birth of Christ
* Caption this Mitt photo