Mitt's viral moment
Mitt made a big macaca moment for himself while in South Carolina.
How does he explain this endorsement of equating Obama with the terrorist responsible for 9/11? TMZ caught this coup — Mitt's holding up the spelling challenged Palmetto State supporter's sign for crying out loud:
More here. It didn't take long for the parodies to come out, with this as inspiration:
resulting in this: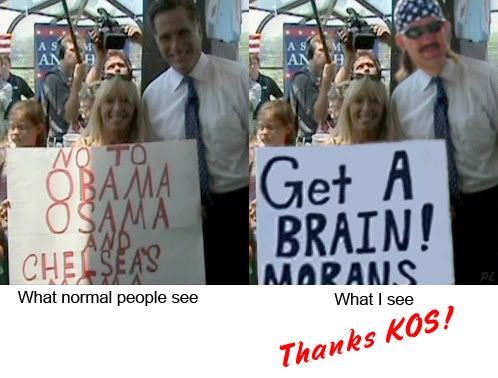 and this.
and this.
and this.
What did his campaign say in response to the appearance of Mitt endorsing the message? Election Central:
"The governor stopped briefly for a picture with a supporter who just happened to be holding their own sign with an alliterative play on words," [Romney spokesman Kevin]Madden said, via e-mail. "I don?t think it was equating or comparing anyone."