Photo exhibit of LGBT families brings out the fundies in Ohio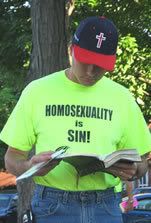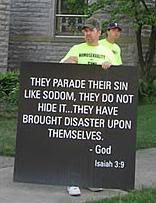 Granville, Ohio (near Columbus) is dealing with an unfortunate band of pesky bible beating street preachers who are carrying large signs and Bibles in front of the First Baptist Church of Granville to protest a "Love Makes a Family" photo exhibit held there.
Love Makes a Family's site describes the traveling exhibit, which also includes interviews with families that have LGBT members, as a way to "combat homophobia by breaking silence and making the invisible visible."
The Equality Ohio Education Fund is partnering with seven communities to put on the exhibit; it will be at the First Baptist Church through Saturday (today), from 9AM – 2PM. I'm sure the fundies will be back.
H/t, HD Biker.