Open thread
A picture speaks a thousand words. Take a look at all of the GOP candidates who participated in the NAACP GOP Presidential Candidate Forum yesterday: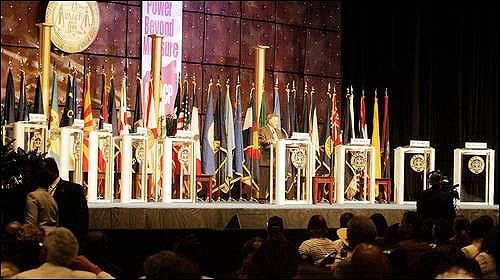 Tom Tancredo.
All of the Dem candidates attended their NAACP forum.
Hat tip to Jeffrey Feldman at Frameshop, who said this:
The resulting photo of Tancredo–standing on a stage of empty podiums–sums up the Republican party's commitment to civil rights in America: the only Republican interested is the guy running to deny immigrant workers their rights.
***
The NAACP has lost a lot of its relevance for many black people. It's more of a generational thing, as its leadership is up there in years and is and often out of touch with the younger crowd. For instance, its mock burial of "The N Word" during this convention isn't exactly taking the bull by the horns if the goal was to address self-degradation in popular culture. It's not clear who the leaders of tomorrow will be.
How about really taking on misogyny in elements hip hop culture, or colorism, which still runs deep (though it's little discussed), or the rising conflicts with Latinos and the immigration debate? Take on the tough internal issues and educate.
And, of course, there's the third rail issue of homophobia in the black community. Until the NAACP at the national level starts addressing this issue, which it clearly wants to avoid at the expense of black LGBT Americans (many of whom are as religious as the homophobes) and those in the community at risk for HIV/AIDS, they are truly not relevant in my book.
That said, the MSM, as usual, when they need to go get a response from the black community, they turn to the NAACP because it's 1) a known entity and 2) the MSM is lazy.
As with any large institution, it gets ossified and entrenched in old ways. The playbook used long ago has to be updated and new blood brought in, but the old-timers cannot and will not let go. That's why the last chair, Bruce Gordon, who was an outsider from the corporate world, left after 19 months on the job. They wanted fresh leadership, but one that wouldn't rock the boat too hard. Or maybe at all, once they had a taste of change. The NAACP won't be the first or last organization to face that challenge. One wonders how it will all shake out.