Fundies embark on a 70-week 'Crusade to Save America'
The bible-beaters are going on another road show to "energize" the sheeple. (WND):
A 70-week "Crusade to Save America" has been launched by a team of evangelists and activists who say they hope to mobilize Christians for the 2008 election.

U.S. Rep. Louis Gohmert, R-Texas., and more than 750 people appeared for a kickoff rally in Lufkin, Texas, for the campaign, which is featuring Ambassador Alan Keyes, Rick Scarborough and Chaplain Gordon James Klingenschmitt.

The three plan to visit 70 cities between the 4th of July, 2007, and the elections in November 2008 to mobilize churches, pastors and social conservatives "to take back our government."
What's interesting to note on the web site for this effort, is 1) a lack of content, and 2) how far down on the list "gay marriage" has fallen in terms of priority with people visiting the site. These fundies have a lot of work ahead of them in terms of the gay boogeyman.
See the site's poll and a video after the jump.1. What issue will be the most important in deciding your vote in 2008?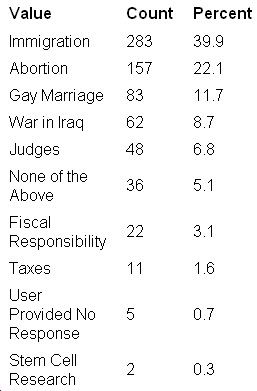 Clearly, The Brown Menace has leapt to the top of the agenda for these "Christians."
The tour heads to Houston on July 18, and will make a stop in Nacogdoches, Texas on the 25th. In August there will be an event in Sulphur Springs, TX. Other cities that need the fundie alert put out:: Nashville, TN, North Mobile, Alabama, St. Louis, Missouri.