Torpedoing Elaine Donnelly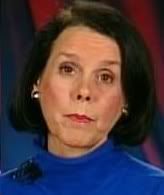 Elaine Donnelly of the Center for Military Readiness is always ready with an anti-gay statement for the media. She fixates on the idea that military cohesion will fall apart if gays and lesbians are able to serve openly.
Her obsession is so intense that you wonder if she imagines patriotic straight service members dropping the proverbial bar of soap and being overcome by a band of horny homosexuals. Her fervent support for DADT is so strong that she made an ass of herself blaming retired General John Shalikashvili's stroke on his support of repeal of the ban in a NYT op ed.
In Elaine's latest bleating she criticized Congresswoman Ellen Tauscher's leadership shepherding the Military Readiness Enhancement Act, which would lift the ban. Donnelly said "We don't really want to see legislation passed that would reflect the San Francisco agenda of Ellen Tauscher."
Steve Ralls of SLDN's The Frontlines calls her out:
Hooray for values! Let's see how Elaine's 'values' stack up against Congresswoman Tauscher's, shall we?

Tauscher: 3 trips to Iraq to visit the troops; 5 trips, overall, to the Middle East
Elaine: 0.

Tauscher: Member of the House Armed Services Committee, on which she is Chairman of the Strategic Forces Subcommittee
Elaine: Has "experienced two 'trap' landings on the carriers USS John F. Kennedy and USS Kitty Hawk (without so much as a tussle of that perfectly coiffed 'do)

Tauscher: 6 terms in the House, representing California's 10th Congressional district
Elaine: Never elected to anything (thankfully for us)
If anyone is out of touch, it's Elaine Donnelly; as Steve notes, 79% of the public supports the ability of gays and lesbians to serve openly and 73% of military personnel are comfortable serving with gays.