Open thread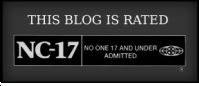 The Blend is rated NC-17 — really now? According to The Blog Rater, the humble coffeehouse is full of potty-mouth conversation.
At least we don't have to feel alone; Queerty also made the illicit grade.
Actually, a whole lot of LGBT blogs fell into this category; Matt Hill Comer (of IQN and InterstateQ.com) fed the URLs of well-known LGBT and anti-LGBT blogs into the hopper and found it spit out NC-17s because the words "gay" or "lesbian" were used in great frequency — that earned major demerits at Blog Rater. A sampling:
Pam's House Blend – www.pamshouseblend.com
LGBT blog, news, commentary
Rating: NC-17
For: gay (17x) lesbian (9x) gays (6x) drugs (2x) abortion (1x)

InterstateQ.com – www.interstateq.com
LGBT youth-oriented political & activism news & commentary
Rating: NC-17
For: gay (68x) lesbian (29x) gays (6x) queer (3x) pain (2x) hurt (1x)

Towleroad – www.towleroad.com
LGBT blog, news, commentary
Rating: NC-17
For: gay (43x) sex (7x) lesbian (5x) dick (2x) suicide (1x)

American Family Association – www.afa.net
Anti-LGBT advocacy organization
Rating: G
For: gay (1x)

Exodus International – www.exodus-international.org/
So-called "ex-gay" organization "freeing" people "from homosexuality"
Rating: G
For: gays (1x)

Family Research Council – www.frc.org
Anti-LGBT research organization/advocacy group/think-tank
Rating: PG
For: abortion (2x) pain (1x)
Blender Scott also noted that The Peter's little effort, Americans for Truth Against Homosexuality managed an NC-17 [gay (34x, lesbian (5x), gays (4x), drugs (2x)]. It deserves that rating alone for frequent mentions of "anal" and "fisting" and goodness knows all the other things (in the name of "educating" his readership).
What do some of your blogs (or blogs you read) rate?
***
More fun — while I was at InterstateQ, Matt had up his results of a Blog Addiction level test (scoring a 92%).
I took it:
72%How Addicted to Blogging Are You?
If I blogged any more than I do now I would have no life!
***
Some inside baseball party politics kind of news:
In May it was learned that the former director of the Democratic National Committee's Gay and Lesbian Leadership Council, Donald Hitchcock, filed a lawsuit against the party, Howard Dean and others for discrimination.
Hitchcock's lawsuit cites termination of employment by the DNC based on his partner Paul Yandura's public criticism of the party in a letter regarding a lack of action to stem the tide of anti-gay marriage amendments (the letter went to big Democratic donors and called for them to shut their wallets). Howard Dean responded that it was poor job performance that was responsible for Hitchcock's dismissal.
The Advocate has an exclusive interview with Donald Hitchcock that you should check out.