Obama addresses black homophobia and HIV/AIDS at presidential forum


Click here for the Media Bloggers Association feed of event coverage.
At last night's presidential forum, many issues were touched upon that deserved the spotlight, including reform of the criminal justice system and educational opportunities and the achievement gap, but one small statement by Barack Obama broke ground in the debates.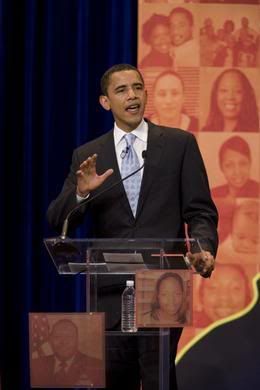 On a question about the scourge of HIV/AIDS and its disproportionate impact on young black people — black teens represent 17% of the population by make up 69% of teenagers diagnosed with HIV/AIDS, Barack Obama took on the issue of homophobia in the black community.
He brought it out of the closet in front of the mostly black audience there at Howard and for those watching at home.
One of the things we've got to overcome is a stigma that still exists in our communities. We don't talk about this. We don't talk about it in schools. Sometimes we don't talk about it in churches. It has been an aspect sometimes of our homophobia that we don't address this issue as clearly as it needs to be.
This was long overdue — a presidential candidate calling out the silence that is killing people — black women are 25 times as likely to be infected with HIV than white women, as Hillary Clinton noted. If the situations were reversed it would be a national health and education emergency commanding the attention of the MSM and government. But that is not the case — there is a pitiful silence on too many levels — but not last night.
Obama's short, but powerful statement on black homophobia is one that none of the other candidates mentioned. Is this a surprise? No — addressing the responsibility of the black community to open its eyes regarding its reticence to take on an internal bias that has allowed HIV/AIDS to ravage it touches the third rail of race. The candidates fear perceptions of a paternalistic white finger being waved at the community will result in blowback from black voters.
I'm grateful that there was a black man up on that stage to broach the subject of homophobia in this community, but the fear of the other pols needs to be overcome, all bridges need to be crossed when the statistics are this stark and horrifying.
I want to add that there are people of faith in the black community trying to address this issue, and it's an uphill battle at times. Many gathered earlier this year at the National Black Justice Coalition's Second Annual Black Church Summit, which I also live blogged. During a debate with homophobe Bishop Harry Jackson, Bishop Yvette Flunder spoke the truth about the ignorance coursing through elements of the religious black community regarding homosexuality that results in stigmatization and silence — the fuel for the spread of HIV/AIDS. From my liveblog (audio is here):
He [Jackson] didn't waste much time bringing up pedophilia in the context of sexual immorality and homosexual expression. Sigh. He wants people to define themselves as Christians first, gays and lesbians second.

…If we are going to understand SGL [same-gender-loving] people, Flunder continued, we need more people like Jackson to sit down with gays and lesbians to actually learn what their lives are like. We cannot address sexual immorality for gays only, as straight people who are pious are committing adultery and immorality themselves. Hypersexuality being attached to gay people only is tragic and wrongheaded. Conflating pedophilia and homosexuality, she said, struck a nerve with her, she works with many abused children, and none in the group she counsels was molested by a gay person. She managed to launch a mentoring program involving adult, moral gay people working with young people — and it proved the naysayers wrong. Those involved are responsible contributors and the county that took the effort to sponsor it, wants to replicate it.
See the Rev. Dr. Michael Eric Dyson (who was at the forum last night in support of Obama) who discussed the white anti-gay evangelical movement's almost unchecked effort to take advantage of the homophobia in the black church. From the NBJC Church Summit:
Perhaps Obama's small very public foray last night into breaking the silence about the impact of black homophobia on the spread of HIV will spur more desperately needed discussion at the national level. One can hope.