Setting up for the PBS Democratic presidential forum


[UPDATE (8:30 PM): We just received word from his campaign that Barack Obama will not head over to the media room after the forum. That's really odd, certainly not a great move, considering the rest are scheduled to be come over.]
It is H-O-T and humid here in DC, and I must be crazy, but I walked from my hotel to the venue (almost 2 miles). On my way I passed a throng of Obama supporters — there had to be 50 of them — and they were cheering and waving right across the street from a lone Hillary Clinton supporter with a placard. Further down Georgia Avenue there were about 10 enthusiastic Chris Dodd supporters, and a handful of Joe Biden fans.
Since you're reading this, it's obvious that I'm set up and successfully blogging to you from Howard University in Washington, DC at the All-American Presidential Forum. The event is being held at the Cramton Auditorium and will air live on PBS from 9:00-10:30 ET. You can also watch online at PBS.org.
About 20 bloggers are present as credentialed media thanks to the Media Bloggers Association and PBS. You can take in our commentary at the MBA web site's feed. We are actually located in Blackburn Center, which is serving as the media center/spin room for the event. Who's blogging the event? There is a good mix of perspectives…
* Faye Anderson, Anderson@Large
* La Shawn Barber, La Shawn Barber's Corner
* Andy Carvin, www.andycarvin.com
* Earl Dunovant, Prometheus 6
* Michael Fauntroy, www.michaelfauntroy.com
* Terrance Heath, The Republic of T. — and Blend contributor
* Danielle Holley-Walker, feministlawprofs.law.sc.edu
* Sherrilyn Ifill, www.blackprof.com
* Casey Lartigue, The Casey Lartigue Show
* Susie Madrak, Suburban Guerrilla
* Maegan "la Mala" Ortiz, VivirLatino.com
* Kim Pearson, Professor Kim's News Notes
* Liza Sabater, CultureKitchen.com
* Matthew Sheffield, Ace of Spades HQ
* Your blogmistress — Pam Spaulding, Pam's House Blend
* Gerardo Vazquez, americantaino.blogspot.com
* Laurie White, LaurieWrites
* Oliver Willis, OliverWillis.com
The media center is quite large, with about 10 rows of tables (that seat four) in four sections. There four video displays, three plasma (maybe 60-inch?) and one projection onto a large screen in the middle of the room.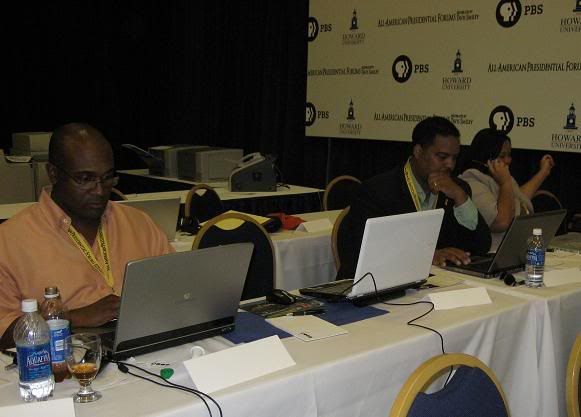 The room we're in is segregated — print and new media on one side, the broadcast journalists on the other.
There aren't many folks here at this point, since the "festivities" don't begin until 9PM, but Howard has a big food spread out for the press. I already ate on my way over, so I was desperately thirsty for a Diet Coke — and they are out! Argh. How am I going to stay awake till midnight?
Met Liza Sabater and Terrance Heath for the first time; Liza gave a scream and bear hug. Poor Liza — I was still panting from the heat…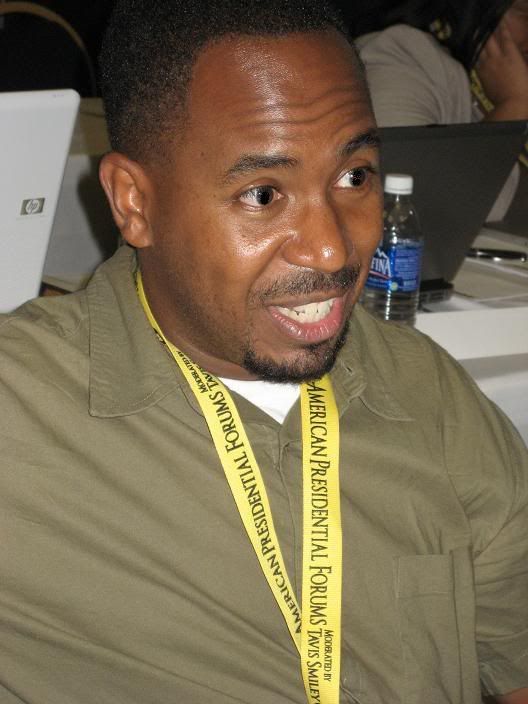 Terrance and Liza.

Oliver Willis.
We meet again…conservative blogger LaShawn Barber, who sat near me during CNN's Election Night Blogathon, stopped to get our annual picture together.