NGLTF: the presidential candidates' positions on LGBT issues
The National Gay and Lesbian Task Force has put out its analysis of the Democratic and Republican 2008 presidential contenders on LGBT issues. A PDF is here. NGLTF Executive Director Matt Foreman made these observations:
"The differences between the Democratic and Republican fields of candidates on lesbian, gay, bisexual and transgender issues are shockingly stark and profoundly depressing. Over time, the majority of Americans have moved to support basic fairness for LGBT Americans, including nondiscrimination and hate crimes laws, repeal of 'Don?t Ask Don't Tell,' and protections for our families. Sadly, the Republican field has gone in the opposite direction, still clearly pandering to the venom of the so-called 'religious right.' This only means that they will continue to use our lives as cultural wedge fodder whenever it's deemed politically expedient.

"The public statements and voting records of the Democratic candidates show that they are clearly light years ahead of the Republicans on almost every issue important to the LGBT community. Nevertheless, the lack of courage on marriage equality is disturbing on both political and moral grounds. Politically, being for civil unions but against marriage doesn't bring a single voter over from the other side. Morally, it's hard to understand how a Democratic candidate can say to people they know individually and to one of the most loyal and generous voting blocs the party has, 'Sorry, I just can't go there — you understand, right?' Actually, we don't."
The chart with the positions is after the jump.In order to make it fit on the blog, I had to separate the graphic by party affiliation (see the original here).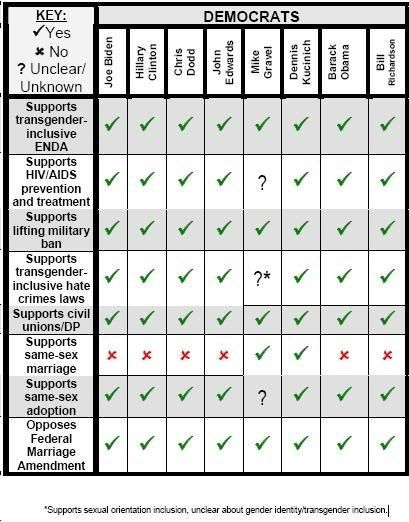 The GOP positions are simply out of touch with reality. A CNN/Opinion Research Corp. poll released yesterday found that:
* 56% do not believe sexual orientation can be change, up from 45% in 2001.
* 42% of respondents said they believe homosexuality is the result of upbringing or environment; 39 percent said it is genetic in origin. In the 1970s and 80s, that number was less than 20%
* Another poll conducted in May indicated that 79% support gays serving openly in the military.
This Republican field is seriously out of touch with the public.