Department of Defense revises its statement about DADT
There's clearly a shift going on at the Pentagon. It has issued a statement that acknowleges the commitment to the security and defense of our country by gays and lesbians discharged under Don't Ask Don't Tell, encouraging them to continue their careers in a civilian capacity in federal positions where they are welcome. (SLDN):
The Department of Defense has issued a newly worded statement regarding the Pentagon?s position on ?Don?t Ask, Don?t Tell,? the federal ban on lesbian, gay and bisexual service personnel. The new statement, first released to a reporter with the LGBT newsmagazine The Advocate, includes the first language from Pentagon leaders suggesting that lesbian and gay service personnel should continue to use their skills in support of national security efforts, even after facing dismissal under the law.

Lesbian and gay personnel dismissed under the ban ?have the opportunity to continue to serve their nation and national security by putting their abilities to use by way of civilian employment with other Federal agencies, the Department of Defense, or in the private sector, such as with a government contractor,? Cynthia O. Smith of the Defense Press Office, said in the statement. It is the first Pentagon statement, according to Servicemembers Legal Defense Network (SLDN), which encourages lesbian and gay former service personnel to continue their federal government careers.

?In its new statement, Pentagon leaders clearly acknowledge that lesbian and gay Americans make important contributions to our national security and that our country is better off when their skills are employed, not turned away,? said Steve Ralls, director of communications for SLDN.
Steve Ralls also points out that the days of the stern defenses during the early days of DADT, which always cited "unit cohesion and morale" are long gone, and that rank and file support for lifting the ban has made it impossible to use that as a crutch. Now the line is that it's the job of Congress to decide whether to lift the ban. Again, that's a big change.
I'm sure Elaine Donnelly of the anti-gay Center for Military Readiness will be spouting off shortly. Here are a few bits of wisdom from Donnelly:
* Canada has a pansy military: "We don't use our military for social experimentation, or to advance career considerations. That's the difference between the American military and the Canadian military."
* On the Soulforce Right to Serve movement: "They are promoting an agenda to normalize homosexuality in America using the military as a battering ram to promote that broader agenda."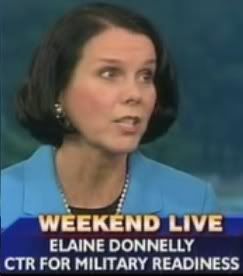 * On why it's ok for the military to discriminate: "The military is not like any other employer, troops often live in close quarters with little privacy, creating "forced intimacy…This is not a question of bigotry, it's about "respect for personal modesty."