Fundie fun at Atlanta Pride
Folks are just loving that last photo post on fundies at Prides (which has unfortunately been derailed by house troll Josh). Let's see if we can do better on this one.
Another reader, Jacqui M., sent a photo in that she took at Atlanta Pride over the weekend.
I attended my very first Pride Festival and Parade this year. It was a great experience and I so look forward to doing it again next year. However what I was somewhat surprised to see was the airplane buzzing over Atlanta's Piedmont Park carrying a "Hope for Homosexuals" banner. I took a few pictures and decided I'd share since I am a constant reader of your blog.
This little gem was the effort of Peter LaBarbera's AFTAH, Family Policy Network (FPN), and the Ohio-based Mission America to save the homos.
Americans For Truth is joining with two other national pro-family organizations that are working together to form a multi-state outreach this weekend, designed to confront "gay pride" parade participants with the truth that Jesus Christ can set them free from the sin of homosexuality.

"Gay pride" parades in Chicago, Atlanta and Columbus, Ohio, this weekend will receive the hopeful message.

"The truth is, homosexuality is nothing to be proud of," said Americans For Truth president Peter LaBarbera. "Christ has helped set free thousands of people from this destructive lifestyle…and we hope that those who have not closed their minds to God's truth will go to HopeforHomosexuals.com and open their hearts to the life-changing Gospel truth on its pages."

The Virginia-based Family Policy Network (FPN), in an alliance with Naperville, Illinois-based Americans for Truth and the Ohio-based Mission America, will fly airplane banners over so-called "gay pride" parades in Georgia, Illinois and Ohio this weekend that read, "JESUS CHRIST: WWW. HOPE FOR HOMOSEXUALS.COM."
***
Also in Atlanta, Blender Robert B. sent two photos in. See them after the jump.The first is a tribute to allies Coretta Scott King and her daughter the late Yolanda King (see my earlier post).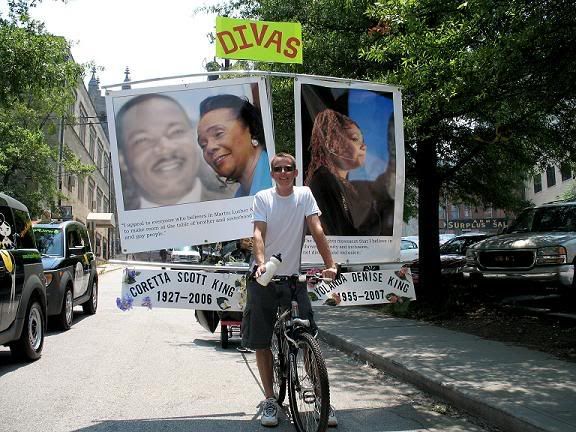 And for an ironic juxtaposition of images…a howler — someone making fun of homophobes Bishop Eddie Long and Bernice King, who marched to "save marriage" in 2004.