Every so often I post an update on the presidential contender positions on marriage equality. It's interesting to keep track of those "I'm for civil unions" positions held by this crop of Dems.
It's important to know whether they advocate the repeal/amending of the 1996 federal Defense of Marriage Act, which would allow civil unions created at the state level to have full parity of benefits at the federal level. Over 1,000 benefits that married people take for granted, including social security and military pension partner benefits, are denied to gay couples with CUs.
So, here we go…
* Delaware Sen. Joseph R. Biden Jr.
— Marriage: Wishy-washy. He feels marriage is "inevitable," and that committed couples are "entitled to any fewer rights than any other American." Getting there [marriage equality] will "be an incredibly difficult thing for America to grapple with."
— DOMA: He voted for it in 1996; hasn't commented on his position today.
* New York Sen. Hillary Rodham Clinton
— Marriage: Nope. It's between a man and a woman. She's taken the standard civil unions position ("I believe in full equality of benefits, nothing left out…From my perspective there is a greater likelihood of us getting to that point in civil unions or domestic partnerships and that is my very considered assessment.")
— DOMA: No position taken so far on amending or repeal.
* Connecticut Sen. Christopher J. Dodd
— Marriage: No. Civil unions, yes. "I think it ought to happen. To me the country is way ahead of us on these issues. I think the American people are there."
— DOMA: For amending or repeal.
* Former North Carolina Sen. John Edwards
— Marriage: Nope ("it's a jump for me to get to gay marriage. I haven't yet got across that bridge." … "I wish I knew the right answer."). Civil unions, yes (Civil unions? Yes. Partnership benefits? Yes).
— DOMA: In 2004, he said during a Dem debate: "I would not support the Defense of Marriage Act today, if there were a vote today, which is the question you just asked Senator Kerry. I'm not sure what he said about that. But I would not vote for it." He then undermined his equality-minded position, by continuing with "the part I agree with is the states should not be required to recognize marriages from other states."
* Former Alaska Sen. Mike Gravel
— Marriage: unconditionally for full marriage equality. At a May 2007 forum in NH, he stated: "If a couple of lesbians or gay men want to get married, and they love each other, they should have the right to do that and enjoy all the legalities in our society that go along with that…Love between a man and a woman is beautiful, love between a woman and a woman is beautiful, love between a man and a man is love…is beautiful too. What this world need is a lot more than what we presently have."
— DOMA: for repeal/amendment of DOMA
* Ohio Rep. Dennis J. Kucinich
— Marriage: on the record for full marriage equality
— DOMA: it's assumed Kucinich would want DOMA amended/repealed if CUs are on the table.
* Illinois Sen. Barack Obama
— Marriage: No. Civil unions, yes.
— DOMA: when he was running for the Senate in 2004 – "I will vote for its repeal on the Senate floor." No word on any change so far on the position.
* New Mexico Gov. Bill Richardson
— Marriage: Nope. "on the issue of gay marriage, I'm just not there. I want to be honest."
— DOMA: He voted for it in 1996, and stated in Feb 2007 that he still stands by that vote now.
And just for fun…
* Former New York Mayor Rudy Giuliani
— Marriage: Nope. Depending on the direction of the wind, he's for or against civil unions/domestic partnerships. In May 2007, he flip-flopped once again, in a speech at Houston Baptist University that he is proud of submitting, a bill in NY creating domestic partnerships for gay and lesbian couples.
— DOMA: No stated opinion.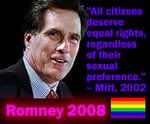 * Former Massachusetts Governor Mitt Romney
— Marriage: Nope. For your amusement, click on the above graphic for Bay Windows' reporting on Multiple Choice Mitt's history, The Romney Files.
— DOMA: Of course he doesn't want it repealed.
Don't even bother with the rest of the GOP clown car…
* Kansas Sen. Sam Brownback
* Attorney John H. Cox of Illinois: "speaks of his lesbian sister when he discusses his opposition to gay marriage."
* Former Virginia Gov. James S. Gilmore III
* Former Arkansas Gov. Mike Huckabee
* California Rep. Duncan Hunter
* Arizona Sen. John McCain
* Texas Rep. Ron Paul
* Colorado Rep. Tom Tancredo
* Former Wisconsin Gov. Tommy G. Thompson