Listen to lying adulterer Giuliani on OutQ radio supporting civil unions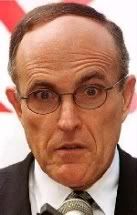 Michelangelo Signorile invited then-NYC Mayor and current fawning prez wannabe suck-up to the Right, Rudy Giuliani, on his Sirius OutQ radio show back in 2003 to talk about LGBT issues, and he bragged about his support for for domestic partnerships and civil unions — and he didn't make any distinctions between them back then.
Mike, the pesky rascal, unearthed his digital file of the interview and you can listen to it at his pad.
"Marriage should be a man and a woman…I think that the domestic partnership legislation in NY has worked very, very well. I think that's a good way to deal with it, and I think that would be a good model for other states to have. Some places call them domestic partnerships, some states call it civil unions, and I think that would be the best way to deal with it.