Welcome to the SLDN's 15th Annual National Dinner live-blogging event
[UPDATE (Sunday, 3/25): More coverage, footage and photos have been added! UPDATE 2: (6PM Sunday: more video added, including 7 minutes of the press conference with the L Word cast and Bleu Copas.]

The Servicemembers Legal Defense Network's 15th annual national dinner is about to begin — we are at the National Building Museum where the Showtime series The L Word will be honored for its "Don't Ask, Don't Tell" storyline.
Kate and I will do our best to keep you in the thick of things!
***
Rose Rollins is the special guest at the SLDN dinner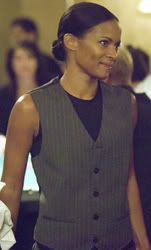 The first bit of breaking news is that the special surprise guest at the dinner is Rose Rollins of The L Word. She plays the character Tasha Williams, who is in the National Guard and has to deal not only with PTSD, but the threat of being ousted from the NG because of a homophobic colleague who suspects that she is a lesbian.
Tasha comes into the L Word circle of friends through Papi, who introduces her to Alice and the sparks fly in more ways than one. Tasha's political point of view about the situation in Iraq is complex — she sees war from the inside and it sometimes places her at odds with Alice. The final ep of this season airs tomorrow, btw.
A press conference was held, and we've got audio of the whole thing.
Listen:

Ilene Chaiken, SLDN's Dixon Osburn, Cybill Shepherd, Marlee Matlin, Pam Grier, Rose Rollins.


Video from the press conference: Left: Bleu Copas talks about how he was outed and discharged under DADT; center: he talks about General Peter Pace's comment that homosexuality is immoral. The video on the right is Rose Rollins and others discussing Copas's situation.
***


Ilene Chaiken talks about this year's DADT storyline. The video on the right is the meat of the presser (runs about 7 min) — where Rose Rollins discusses the research she did for the role of Tasha.
Live-blogging of the dinner follows after the flip….
8:15 PM – National Anthem / performance by the group BETTY.
You can hear more at the BETTY myspace site, and the band's main web site, Hello BETTY.
8:20 PM – SLDN client and former Marine Captain Chuck Cisneros does the Table of Honor Presentation.
8:22 PM – Captain Joan E. Darrah, USN (Ret.) and SLDN's David Crane, make remarks and introduce SLDN Executive Director of Servicemembers Legal Defense Network, Dixon Osburn.
8:26 PM – Remarks by Dixon Osburn (excerpt below; link to additional remarks). Audio of Dixon Osburne speech is here:
Listen:

You know, apparently the most frightening thing in Baghdad is a gay man in a shower? On The Daily Show, the head of the Family Research Council said he would rather be killed by a terrorist than suffer an uncomfortable moment with a gay. Congressman Ackerman noted recently that all our enemies need to do is send in a platoon of lesbians and American troops would scurry. Several years ago, the Air Force was developing a bomb that would turn our enemies gay by spraying them with pheromones. Bomb. Poof. Madonna Rave party.

This is all true. Fact is stranger than fiction. Which leads me to General Pace. He said last week that that "Don't Ask, Don't Tell" is necessary because lesbians, gays and bisexuals are immoral.

As Dorothy Parker once said, "You can't teach an old dogma new tricks."

Well, General Pace, "Don't Ask, Don't Tell" is immoral. Kicking out Arabic linguists like Sergeant Bleu Copas in time of war is immoral. Telling Sergeant Eric Alva, who received a purple heart after losing his leg in a landmine explosion in Baghdad, that he is not equal is immoral. Discharging gay and lesbian service members because of their emails, diary entries, and communications with their doctors is immoral. Denying college benefits and pensions because someone is kicked out for being gay is immoral. Granting waivers to new recruits who have made terrorist threats, committed murder or kidnapping, but not letting qualified and capable gay Americans to serve is immoral.

General Pace: We are moral. We are brave. We are patriotic. We are strong, courageous, honorable, loving, intelligent, spiritual and compassionate. We shed blood for our country. We raise children; care for our parents; and love our spouses. We volunteer at our churches and synagogues. We support the arts and the environment. We fight for equality for all.
Osburn also referenced the December 2006 Zogby poll that found 73% of returning Afghanistan and Iraq war veterans are comfortable serving with gay and lesbian servicemembers, a figure that is up 13% since 1993. In fact, 23% have served with someone openly gay in their unit.
He mentioned support of repeal by General Shalikashvili, former Chairman of the Joint Chiefs of Staff (who backed the original DADT policy in 1993), and the reintroduction of the Military Readiness Enhancement Act by Rep. Marty Meehan in February and says a companion bill is expected to be filed in the Senate. (He put in a plug for SLDN's annual Lobby Day on Capitol Hill, which is on Monday), noting "If you have not signed up, Uncle Dixon wants you!" He continues about General Pace's remarks:
It is perhaps ironic that General Pace who thinks we are immoral may have sown the seeds for the ban's ultimate demise. The lawyers defending the ban have craftily argued that the ban is needed for military readiness. General Pace let slip that illusion and showed "Don't Ask, Don't Tell" for what it really is – a law of rank discrimination which ultimately undermines our national security.

Military service has been connected to the rights and obligations of citizenship since the founding of our country. The denial of military service and citizenship to African Americans led our country to ratify the Fourteenth Amendment which not only defines citizenship, but provides for due process and equal protection under the law.
***
8:35 PM: Dinner! Quick scarfing down…
There's a silent auction going on while folks are eating. One item up is a walk-on role on The L Word. The bid is up to $7500.

I finally got to meet Blender Daimeon of Get the Skinny. Daimeon liveblogged the re-introduction of the Military Readiness Enhancement Act for the Blend. Right: Kate and I take a break before the presser.

Stopping by my little blogging table: president of lesbian social networking site OurChart, Hilary Rosen, and Mike Rogers of Blogactive and PageOneQ. I am a 'guestbian' blogger over at OurChart from time to time.

Star trip: pix with The L Word's Cybill Shepherd and Marlee Matlin. My interview with Marlee is here.

Daimeon snaps me liveblogging, feverishly downloading/uploading audio, video and pix (plus typing away!). Right: I couldn't have done this without my wonderful wife, who was hard at work capturing video while I was blogging. Mwah!
***
9:45 PM – There is a promo for the social networking site OurChart (Ilene Chaiken is CEO), which is based on the L Word character Alice's chart of all the relationships in their "universe" (I contribute occasional columns there).
9:50 PM – Presentation of the Barry Winchell Courage Award is by Patricia and Wally Kutteles, the parents of PFC Barry Winchell. They welcome this year's award recipient, former Army Sergeant Bleu Copas.
9:51 PM – Remarks by Bleu Copas, as he receives the award (more here).
[Speaking in Arabic with subtitles onscreen]: I stand before you speaking Arabic, which obviously makes me a member of the Axis of Evil. I have surrendered to the temptations of "techno beat and a little back fat," and become one of the 'immoral' ones. The military could not condone my actions, but SLDN couldn't afford anyone else, so they picked me.]
He thanks Mrs. Kutteles and her family and discusses his time in the Army and how he was outed and dismissed while serving in the 82nd Airborne Division (Fort Bragg, NC).
Out of 200 individuals in our battalion, I was the one selected by my commanders to represent the unit on a temporary assignment with the Chorus. While continuing to maintain my Arabic language skills, I sang with this esteemed group of men. I was able to do the job, and do it well. It didn't matter that I was gay.

But it mattered to someone. After a few months with the Chorus, someone started emailing the leaders to tell them there was a gay soldier in their midst. When the Chorus leaders told us about the email, my throat knotted up, my head was spinning, and my stomach switched places with my heart. They asked if any of us was gay; they wanted the gay soldier to come forward.
He discusses how SLDN helped him through the dark time – that he couldn't "have survived emotionally without the folks at SLDN."
10:05 PM – Retired Army Brigadier General Pat Foote speaks and introduces a musical interlude by The Celtic Woman ("Someday"). Se discusses the "reprehensible presence" of Don't Ask, Don't Tell. She called Gen. Peter Pace "Peter, Peter, pumpkin eater" and ripped him one over the outrageous bigotry he expressed in his remarks — "What is immoral is his thinking. He put his foot in his mouth and crammed it so far down sideways."
Paraphrasing her remarks here, about what it was like when she was in the service: "Any woman who would not go to bed with a convenient man was automatically suspect, and investigated. That madness made her madder than spit."

10:30 PM: Betty performs. They sing the theme to The L Word. (Audio here).
Listen:
10:35 PM – SLDN client and former Navy Lieutenant General Junior Grade Jen Kopfstein introduces clips from The Word. A snippet:

Photo: Daimeon Pilcher

This season, the L Word writers penned the story of Tasha, a lesbian Army National Guardsman who has returned from duty in Iraq. Tasha brings a unique perspective on the war, fueled by her sense of patriotism and duty, and speaks passionately about the difference between politics and service, challenging her friends' perspective about the armed forces.

I'm thrilled the L Word has given us all a character we can relate to. The L Word's commitment to presenting an accurate portrayal of lesbian military personnel is important, groundbreaking, and just plain a lot of fun to watch.

…The importance of calling attention to this issue can't be overstated. "Don't Ask, Don't Tell" is legalized discrimination, and calling attention to that fact by showing the world, a strong, professional military officer, who also happens to be a lesbian, is a service both to our community, and to our nation.
She introduces clips from The L Word, including the scenes when Alice visits Tasha on the base, and the discomfort it causes Tasha. Another scene shows Tasha's homophobic National Guard colleague spots her hanging out with The Girls at the racetrack and eyebrows are raised.
A scene where Tasha's commanding officer calls her in and tells her that he "doesn't want to ever hear about her lifestyle again" and that he would be forced to act if he hears about it again.
The scenes of tension between Alice and Tasha and the because of the forced closet of DADT are powerful.
10:45 PM – Kopfstein presents the award to L Word series creator, writer, and executive producer Ilene Chaiken, along with actresses Cybill Shepherd (Phyllis), Pam Grier (Kit) and Marlee Matlin (Jodi). Jen Kopfstein notes, "If I had known Army chicks were so hot, I'd have considered joining the Army."
Video of Ilene Chaiken as she delivers her remarks accepting the award.
Pam Grier: "I've lived through a lot of battles…voting rights…Brown v. Board of Ed…we will win this one."

Photo: Daimeon Pilcher
Cybill Shepherd: "I have been with you a very long time…in my dreams I would have loved to have been a servicemember and to serve this country. I have admiration for those of you who have. I thank you for all the sacrifices you have made and the courage you have…

I looooove doing The L Word." (She rips her jacket off — "I love a woman my age having a sex life!")

Daimeon caught Cybill in action…

Marlee Matlin: "What a touching evening it has been for me. I have the utmost respect from all of us for those of you who have served…We must continue the fight for marriage equality. It is absolutely F-in so wrong to deny any citizen the right…marriage equality and overturning DADT go hand in hand."

Rose Rollins: "I cannot tell you how much your stories have touched me and I'm grateful to be here…I want to thank everyone at SLDN for fighting against intolerance. Thanks to all the men and women who are surviving under this DADT policy…this is my first speech ever, people! We want to stand with you to tell the story to end DADT."
Listen:
Audio of the speeches of the award recipients is also here.
10:15 PM – SLDN board co-chairs Zoe Dunning and Joe Tom Easley make remarks about the award and SLDN and close out the show.
There will be more audio and video up once we're back at the ranch.
Thanks to the good folks at SLDN for doing all the logistics to ensure a great liveblog.
On Sunday, SLDN and MIA Promotions are having a "HOT PINK, Red, White & Blue" party, open to the all members of the LGBT community and features 3 open floors for dancing, and will broadcast The L Word season finale episode. A portion of the proceeds will be donated to support SLDN.
On Monday, March 26, SLDN is holding its annual Lobby Day on Capitol Hill. People can sign up to participate as the organization plans to visit every Congressional office in a single day and to urge for the repeal of "Don't Ask, Don't Tell."

Extras:
* Pam's House Blend mini-interview with Marlee Matlin.
* Speeches at Servicemembers Legal Defense Network's 15th annual national dinner