Open thread – Edwards news conference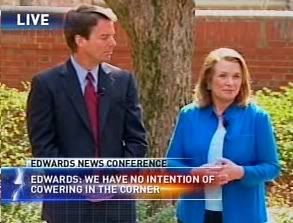 [UPDATE: 12:40 – News conference just ended at the Carolina Inn in Chapel Hill.]
The campaign blog thread is here, though I'm sure the servers are overwhelmed. The good folks at BlueNC were on the scene covering it.
John Edwards speaking: The cancer is back, it is in a small area of her bone, he rib (which she fractured and that's how the found the tumor). It is not curable, but it is low-volume and others with it live with it as a patient does with diabetes. They are optimistic that it is limited and treatable.
Elizabeth Edwards: We are more and more encouraged…she doesn't expect her life to be significantly different. She says she is asymptomatic, she will, however, be on medications that will make her tired along the way.
They are going off to campaign in NY and Boston together and forging ahead with the campaign.
He reiterated that if she's not with him on the campaign trail that he will not hesitate to be by her side as needed when medical issues come up.