Amaechi lands endorsement deal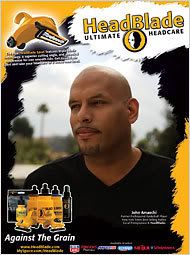 Speaking of endorsements and out gay athletes, John Amaechi is now the first openly gay male athlete to sign an endorsement deal with a mainstream company — HeadBlade Inc.
"I think it's fantastic that HeadBlade has approached me to endorse the brand," said Amaechi. "I jumped on the HeadBlade bandwagon the first time I found out about the product almost six years ago, and have been using it ever since. Whether you're black, white, straight or gay, a shaved head is a shaved head, and it requires specialized maintenance."

"John Amaechi is the newest face of the brand because he embodies many of the qualities representative of a HeadBlader," said HeadBlade CEO Todd Greene. "He is a man comfortable in his own skin and he's not afraid to go against the grain. The HeadBlade audience is diverse; we endorse MMA fighters, bodybuilders, Harley Davison drag racers, and other professional athletes. John not only represents a few of our target demographics; he's also a worldwide diplomat for the brand and a role model to many people.

John has been a HeadBlader for a long time, and it's an honor to have him officially on the HeadBlade team."
The story also made the NYT, which as a story on the slow entry of out gay sports figures into the endorsement arena. More after the jump.
Mr. Amaechi's endorsement deal "seems to indicate a bit of a turning point," said Michael Wilke, executive director at the Commercial Closet Association in New York, which tracks the representation of gay men and lesbians in marketing and maintains an online archive of advertising imagery (commercialcloset.org).

"Society, and sports fans, are becoming more used to gays," Mr. Wilke said, "and advertising is growing more comfortable with gays." Among the initial examples, Mr. Wilke cited a deal in 2000 in which Martina Navratilova began appearing in a general campaign for Subaru of America along with three other female athletes.
John provides a healthy dose of wit in the article.
"It's quite nice when you can say you use the product you endorse," Mr. Amaechi said. "I have to shave my head every two days. I would love to tell you it's a style thing, but I have a bald spot."

More seriously, Mr. Amaechi said that it was "good for young G.L.B.T. people," using the abbreviation for gay, lesbian, bisexual and transgendered, "to see us not just in ads for drinks and H.I.V. medications but also in mainstream ads as well, because we are mainstream consumers."
More at Towleroad, where Andy notes that Tim Hardaway lost his endorsement with a rival cue ball company, BaldGuyz over his homophobic comments, and Queerty; the latter also gets a smooch for picking up my coverage of Amaechi at the NBJC Church Summit reception.