Reporting from the NBJC Second Annual Black Church Summit
This morning I'm in Philly at the National Black Justice Coalition's Second Annual Black Church Summit, which will tackle the woefully under-covered topic of homophobia in the black church.
I'm blogging from the historic Mother Bethel AME Zion Church.
As regular readers know, I've blogged extensively about it — and the attempt by the GOP to woo the black vote through gay-baiting. The vitriol toward the black LGBT community from its own religious community, and the lack of response by mainstream black organizations like the NAACP to that homophobia, definitely needs more exposure.
Today is about opening a dialogue, seeing where the discussions head and address problem-solving that supports black LGBT people of faith and their ability to come out.
The summit runs from 9:00 AM- 5PM. There will be workshops, keynote speeches, and a debate about homosexuality and the church featuring Rev. Dr. Michael Eric Dyson and Bush-supporting Bishop Harry Jackson, Chairman of the High-Impact Leadership Coalition and other leaders in the faith community on both sides of the LGBT rights struggle.
***
The full agenda is here. I will be filling it in with the goings-on as things proceed during the day (pending my ability to get around to the various events.
Live blogging begins after the flip…9:15: There is a press conference featuring Michael Eric Dyson, Rev. Benjamin Reynolds, Rev. Zach Jones and Rev. Dyan McRay. It was an on-the-money discussion about how the black church treats its gay flock and how politicking in the pulpit is harmful and disingenuous. I have audio (here)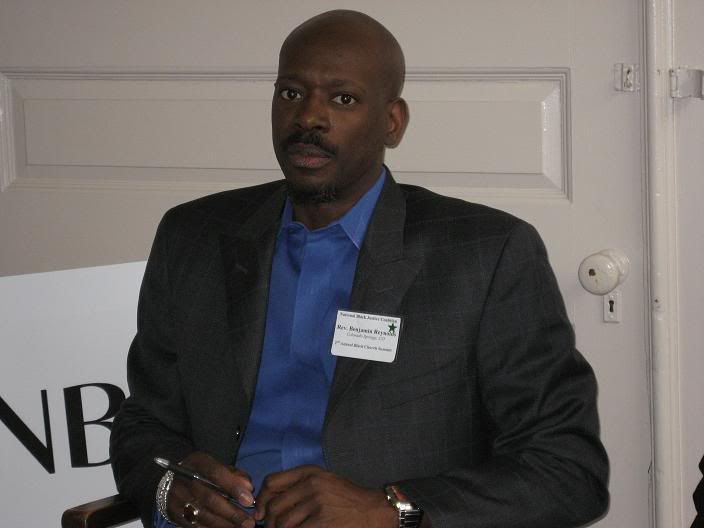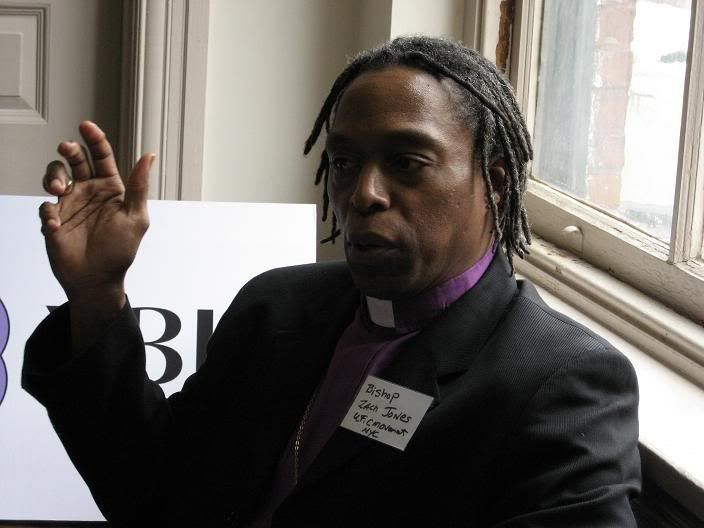 Dyson, Reynolds, Jones, McCray.

I asked a few questions…
All four comment in this first clip about how homophobia in the black church can be combatted and what challenges lie ahead:
In the next clip, Rev. Dyson talks about the symbolic queerness of being black and marginalized in society, and the homoeroticism in the church and in the hip hop culture — and how it translates into homophobia.
The attempt by the white evangelical movement to take advantage of the homophobia in the black church has been successful on many levels, and Rev. Dyson talks about how churches should be wary of bedding down with a movement that otherwise wants nothing to do with black issues on any other occasion. He finds it stunning that this is happening, and he suggest that the marriage of politics and religion is against the impulse of love in the gospel. See that in the clip below on the left. Reverend Jones addresses the same question in the clip on the right, explaining the historical marriage of politics regarding civil rights issues in the church, and it is now being manipulated and mobilized around anti-gay politics.
Rev. Dyson next explains why it was important for him to join the leadership of the National Black Justice Coalition — gay-positive people of faith who are visible figures need to step up to the plate and speak out about the injustice that some in the black church perpetrate against those in flock.
10:15: Keynote: Rev. Dr. Michael Eric Dyson: "The Theology of Homoeroticism"
Michael Eric Dyson gave an amazing speech that was fiery and affirmative. A major chunk of his speech is here.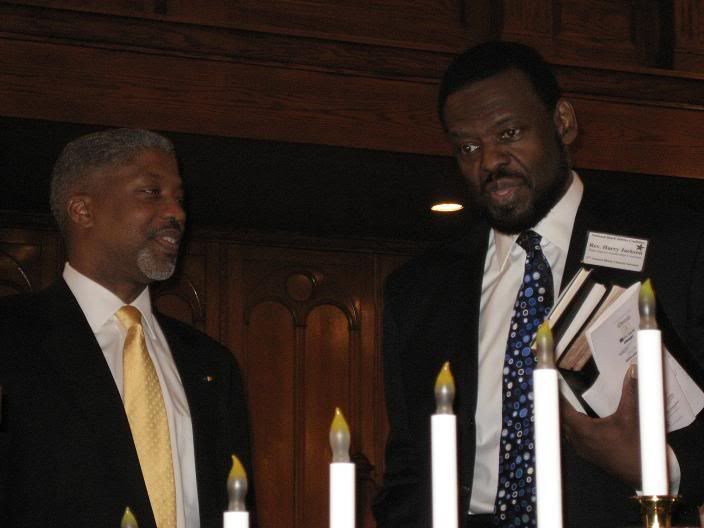 NBJC's Alexander Robinson with Bishop Harry Jackson
11:20: Debate: "Homosexuality, the Church and Black Folk"
Rev. Michael Eric Dyson, Bishop Harry Jackson, Bishop Y. Flunder
Moderators: Sylvia Rhue and Rev. Deborah Johnson

Deborah Johnson
It started off with Deborah Johnson calling for a civil debate and respect for all views expressed during the discussion. Sylvia Rhue offered Bishop Jackson a time to talk about the High Impact Coalition. He admits that there has been a DADT approach to black gays and lesbians in the church in a way that doesn't exist in the white church (meaning a level of acceptance as long as they were closeted). He admits to being a social conservative,but not a Republican. He calls on gays and lesbians to address the "gay lifestyle" and to behave in a sexually responsible manner. He views his position as protection of the sanctity of marriage and family.
He feels that Rev. Dyson has not addressed with sexual responsibility in the gay or straight black community, citing the levels of children born out of wedlock, broken marriages, etc. He is concerned about gays adopting children. He believes that children must be brought up by a man and a woman. He isn't sure what to do about all those unwanted children that need loving homes.
He didn't waste much time bringing up pedophilia in the context of sexual immorality and homosexual expression. Sigh. He wants people to define themselves as Christians first, gays and lesbians second.
Flunder responds: she asserts that the black community is more diverse than the paradigm of straight or gay, noting that Jackson doesn't address bisexuality, intersexuality, the transgendered, for example. She noted that the black church didn't mind taking money from their parishioners who were effeminate or otherwise not conforming to usual gender or orientation identity. The problem needs to be addressed by thinking of the role genetics, not lifestyle, and stop making it all about behavior-centered criticism. We've got to know more about sexuality and orientation than we know today. She knows intersexed people in her congregation — how should they be judged, what is their sin for being born different, what is their orientation? In Jackson's world view, this issue is neatly overlooked.
If we are going to understand SGL people, Flunder continued, we need more people like Jackson to sit down with gays and lesbians to actually learn what their lives are like. We cannot address sexual immorality for gays only, as straight people who are pious are committing adultery and immorality themselves. Hypersexuality being attached to gay people only is tragic and wrongheaded. Conflating pedophilia and homosexuality, she said, struck a nerve with her, she works with many abused children, and none in the group she counsels was molested by a gay person. She managed to launch a mentoring program involving adult, moral gay people working with young people — and it proved the naysayers wrong. Those involved are responsible contributors and the county that took the effort to sponsor it, wants to replicate it.
A question from Deborah Johnson about gay families and Jackson's objection to adoption. She asks him what he thinks the church's response supposed to be to all those families already out there raising children in loving homes.
Jackson felt that healing the family overall has been a challenge. He thinks that same-sex parents should be equipped and know about the stages of a child's life (?). He feels that somehow gays and lesbians are somehow inherently under-equipped to raise a child because there is not a father/mother-headed family. He goes on talking about ages 8-10, and teenaged children, learning about their nascent sexuality somehow is relevant.
Johnson reiterates the question – is there a place for these families in the church?
He says you have to find the right black church. There are a lot of churches would feel tainted by associating with a same-sex couple raising children.
Sylvia Rhue asks: what is the "gay lifestyle"?
Jackson: In his view, the sexual behavior of every individual is something they choose to do. The sanctioned sexual expression we understand in the bible is only the man-woman relationship within a marriage. Most of us make a decision he says, is about sexual expression. I don't think this came close to an answer.
Jackson was asked about the few passages about marriage in the bible and that they aren't particularly affirming, and there are passages reflecting polygamy, concubines, etc. Women didn't have parity in the bible. Johnson feels people are reading into the text and creating their idea about what marriage culturally and religiously means. Obviously the role of women changed over time regarding religious marriage, so who determines what is right and wrong. It's picking and choosing. "We have visited upon the text, what is our social realities…there's nothing about rocket science or Siamese twins in the bible." And, she notes, in Swaziland, kings can use the very same bible to affirm taking many wives. How does that fit into Jackson's worldview?
Jackson: He disagrees about the view of single vs. plural marriages and what is affirmed. "We have to learn to live together in marriage relationships…"(what is he saying here?). Too many people who are pro-traditional marriage don't see enough same-sex relationships in the church to understand them (I think he's saying this).
Johnson: She wants to revisit the fixation on sexual behavior that Jackson holds. She needs clarification — on one hand he was saying everyone is heterosexual, and simply straying morally. On the other hand, he said there is orientation and behavior, saying heterosexual behavior is a choice. Which is it?
Jackson: He doesn't believe that orientation is biology only; at some point one has to choose or not choose to engage in a behavior sexually.
Johnson: Is there a difference then, in the church's treatment of a gay relationship that is celibate?
Jackson: He says yes (!). So as long as the sexual act isn't being performed, then one isn't inherently sinful.
Flunder: Is it necessary then, for someone who is gay to never act on their natural orientation because it is God's way. This obviously has to do with sex and sexuality. You're saying you're embracing homosexuals without their sexual nature in a way not expected of heterosexuals.
Jackson: if it's innate then one can't do anything about it. He then goes on to talk about some ex-lesbians he knows about that prove it's a choice.
Less than optimal audio is here.
UPDATE: I see that Bishop Jackson didn't learn much from the debate; check out his March 12 Town Hall column, Black Gays Aggressively Enlist in the Culture War. A snippet:
Many of our churches have had a "don't-ask-don't-tell" approach to gay members of congregations, choirs, and clergy. This means that openly gay behavior has not been condoned, but leaders in churches and denominations have not probed to identify or remove gay people. Often, rumors of gay activity outside of the church are overlooked as long as there are no incidents of solicitation or liaisons at church sponsored events. One minister I know proudly told a few other clergymen confidentially that he had been hired by a new congregation who had already employed a closeted gay music leader. His approach was to have a heart to heart talk in which he warned the man that he would report any problems he observed on church property. He went on to add that what the man did off site was his own business.

In my view, the "don't-ask-don't-tell" approach to this problem is the height of hypocrisy. Politics may be the place for compromise and consensus. The Church, on the other hand, should be a place of conviction and truth.

The Bible is clear in its statements against gay sexual activity.

Unfortunately, few churches preach biblical sexuality well. If they did, there would be fewer out-of-wedlock births as well as fewer practicing gays in the black church.

Church leaders must stand against the acceptance of the gay lifestyle because of social ramifications as well. Recent studies concerning same-sex marriage have shown that in Sweden and the Netherlands, where such unions have been allowed, marriage is devalued—resulting in fewer and later marriages. Secondly, they lead to rising out-of-wedlock births akin to the current black community dilemma in the U.S.

In addition to the damage that gay marriage does to the black family structure that is already under stress, legalization of gay marriage has the potential of endangering the next generation. Statistics show that children do better in school and are greater contributors to society when a mother and a father are present in the home.

In conclusion, let me state that the battle concerning same sex marriage and gay rights is just warming up in America. I am not willing just to give into the current cultural idiom which says, "Gay is Okay!" There is too much at stake.
***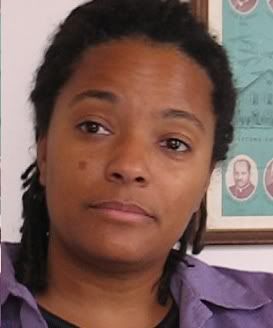 2:30 PM: A big bonus today was that Nadine Smith of Equality Florida was at the Summit. Nadine is the activist who was arrested at the hearing in Largo, FL when CIty Manager Steve Stanton was fired for announcing that he is going to undergo gender reassignment. She sat down with me and discussed what it felt like in that room when the fire and brimstone crowd came to condemn Stanton in no uncertain terms. That video is below on the left:
In the video on the right, Nadine discusses the marriage amendment effort in her state; it's likely to make it to the ballot in 2008, and she's here at the conference filming PSAs with some of the luminaries here (Dyson, Johnson, Mandy Carter, etc.) to tell people in the black community why they should vote no.
Many thanks to the National Black Justice Coalition for inviting me to cover this event. It was a refreshing, eye-opening look at the work of an organization committed to equality in a challenging demographic.
You can join or donate to the National Black Justice Coalition here.
Related:

* John Amaechi at NBJC's Black Church Summit reception