2008 this and that
Hillary Clinton says she didn't make a mistake supporting Bush on Iraq. She's now drawn a clear line in the sand:
"If the most important thing to any of you is choosing someone who did not cast that vote or has said his vote was a mistake, then there are others to choose from," Mrs. Clinton told an audience in Dover, N.H., in a veiled reference to two rivals for the nomination, Senator Barack Obama of Illinois and former Senator John Edwards of North Carolina.
She just flipped the bird to a wide swath of primary voters with that maneuver. If nothing else it looks like another attempt to parse the issue oh-so-carefully so to offend as few as possible — and hold on to the precious middle. Her people know it's going awry and are now scrambling to massage that message, lol.
Her decision not to apologize is regarded so seriously within her campaign that some advisers believe it will be remembered as a turning point in the race: either ultimately galvanizing voters against her (if she loses the nomination), or highlighting her resolve and her willingness to buck Democratic conventional wisdom (if she wins).
And Kossack Central has bailed on her now. Oopsie.
She simply can't say that she was wrong. Say buh bye to a whole lot of votes in the primaries. She never had my vote anyway, because of her public stand re: marriage equality — and inability to publicly address the complexities of endorsing civil unions (since she has to tackle the matter of admitting the federal DOMA her husband signed off on stands in the way of equality).
***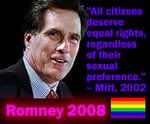 Mitt Romney: "We need to have a person of faith lead the country."
Alrighty then. Constitutional scholar Mitt Romney has found a clause identifying a religious test to become president. Watch this video of him answering a man who stands up at an open forum and calls the flip-flopper "a pretender" (the man said he wanted to make sure that he voted for someone who stands for the Lord Jesus Christ — and told Mitt "you do not know the Lord"). Oops.
Send Mitt this link to the actual qualifications for the presidency. (H/t, OW)
***
More candidates (and a WND poll) after the flip.


The Tool McCain, who didn't show up to vote on Dear Leader's surge, will shore up his winger cred tomorrow as he visits the critical state of South Carolina to discuss abstinence.
The Arizona lawmaker is scheduled to speak Sunday night to about 1,500 middle and high school students about abstaining from premarital sex. Abstinence and abortion loom large as issues in this first-in-the-South primary state in the heart of the Bible Belt.
While he's courting Palmetto state conservatives, some of McTools biggest critics are squawking back at home base in Arizona.
What did he do yesterday as damage control? Here's the latest from The Tool — he's ready for womb control — Roe V. Wade Should Be Overturned.
"I do not support Roe versus Wade. It should be overturned," the Arizona senator told about 800 people in South Carolina, one of the early voting states.

McCain also vowed that if elected, he would appoint judges who "strictly interpret the Constitution of the United States and do not legislate from the bench."

…McCain is trying to build support among conservatives after a recent rebuke from Christian leader James Dobson, who said he wouldn't back McCain's presidential bid. Conservatives question McCain's opposition to a constitutional amendment to ban gay marriage. He opposes same-sex marriage, but says it should be regulated by the states. a
***

Former Arkansas governor and covenant marriage advocate Mike Huckabee is going to be on Meet the Press Sunday. I wonder if he'll discuss this little problem:
"He will not match other candidates in resources, but maybe in ideas and electability," Rothenberg said. "He's probably going to camp out in some early states and hope to surprise somewhere and just hope to become a hot commodity for a while."

In Arkansas, Huckabee was most recently criticized for the destruction of computer hard drives from his office and depletion of an emergency fund for items like an automobile for the Hot Springs Documentary Film Festival and a $100,000 donation to a used band instrument program that he created.
Apparently some folks in Huckabee's home state aren't too enamored of their former governor.
disappointed wrote on January 26, 2007 6:52 PM:
"i would like to know his explanation for his last minute giving of appx $10,000 to Little Rock to be used by them for the locating of a mexican consulate in said city. he is no friend of the common man who has to live with the results of illegal immigration. for him to spend tax monies to make him look good and to aid such an endeavor is wrong. i will vote for anyone besides him, even if that person is hillary."

White Trash wrote on January 26, 2007 6:52 PM:
"Thats All We need is another whitetrash like bush in there"

BrownPower wrote on January 26, 2007 6:54 PM:"
yes he is another fool for the brown man sell out to his own race"

A former republican wrote on January 27, 2007 12:46 AM:
"I think a grand jury should be implanneled to check into ALL his financiall dealings, both public and private. There are 2 professions that should not be in politics, lawyers, and preachers!…This man ranks right in there with the village idiot that is in the white house now. We do NOT need this man anywhere represending the good people of AR. And yes, Hillary would be better than this idiot! Vote democratic!"

Jerry Hawkins wrote on January 27, 2007 8:10 AM:
"This joke of a politican. A waste of taxpayers funds. Arkansas also send another of it's fools to the white house after finally getting him outa the govenors office. I just don't get how thespeople can get majority votes to win. I quess the majority of voters are drones, mindless drones."

Dean Bitner wrote on January 27, 2007 9:53 AM:
"Don't make too much out of this folks. The Huckabee camp will quickly realize that they are a backmarker in this race. This is simply political posturing to keep his name in the public eye. "

disappointed wrote on January 27, 2007 10:19 AM:
"the likes of clinton and huckabee get elected because we do not require people who vote to know anything. they watch abc, nbc, cbs, cnn and think they know something. and then we let people vote without knowing who they are and if they are legal, etc…"

Barry wrote on January 27, 2007 2:08 PM:
"THIS CROOK SHOULD BE IN PRISON INSTEAD OF BARKING ABOUT RUNNING FOR THE WHITE HOUSE."

John Milligan wrote on February 05, 2007 6:03 PM:
"Did he violate any laws or any precedentslwhen he ordered the crushing of 83 hard drives and 4 servers potentially containing state records?? This should be checked out. Not a good precedent if it was one and might border on criminal if there were state records on those drives!"
Gore says he's not running. So this is a definite no, I guess.
Former US vice president Al Gore has ruled out a bid for the White House in the 2008 elections and will carry on his fight against global climate change.

"I have no intention to run for president," Gore said in an interview conducted in Los Angeles and broadcast Thursday by the BBC.

"I can't imagine in any circumstance to run for office again," said the former Democratic vice president under then-president Bill Clinton.
***
Bill Richardson has added $2 million to his coffers, and in New Hampshire, called for diplomacy in the Middle East (I'm assuming before Bush manages to destroy it). (BostonHerald):
Richardson campaigned in the early voting state after raising $2 million at a fundraiser in New Mexico on Thursday. The total puts him in good standing in the Democratic race although he isn't as well known as some of his rivals.

Richardson, a former U.N. ambassador who has negotiated with North Korea and Saddam Hussein, said his own Iraq plan combines diplomacy with a troop withdrawal by the end of 2007. Diplomacy must take two paths, he said. The United States should negotiate with Iraq's three main ethnic groups to set territorial boundaries and divide the government and control over oil.
***
Giuliani is for Bush's surge, but he's not sure it's going to work. Way to go, talk is cheap — those are the lives of men and women out there on the line. (CNN):
"I'm not confident it's all going to turn around," Giuliani told CNN's "Larry King Live." "Who knows that? I mean, you never know that in the middle of the war.

"I'm confident that we have to try to make a turnaround, and we just can't walk out, and that it is critical to us that things get to the point in Iraq that we have some degree of stability and not the way they are now," Giuliani continued. "Because if we leave it the way it is now and we run out, then we're going to face further difficulties in the future."
Obama wowed another large crowd, this time in SC.
"Twenty years ago, nobody would have believed this crowd in South Carolina," he said of the racially mixed group.

He tried to distance himself from his rivals in the primary about the situation in Iraq, saying, "I'm proud of the fact that I was against this war from the start." He talked about divisive politics preventing solutions to problems in health care, education and foreign policy.

He didn't mention the state's contentious Confederate flag display. The NAACP has called for a boycott of tourism in South Carolina over the presence of the flag on statehouse grounds, a few blocks from where Obama spoke.
***
Here's what WingNutDaily readers think of the GOP field (and fantasy candidates) so far.
***
In local news, my senator, The Empty Wig Elizabeth Dole, is running again in 2008 (h/t, Peg):
U.S. Sen. Elizabeth Dole has returned to the campaign trail, declaring her intentions to seek a second term in what she calls "the worst political environment in memory."

"I am going to need your help as we rev up the campaign for 2008," Dole, R-N.C., told supporters at a barbecue Friday.
This is the woman who served as chair of the National Republican Senatorial Committee and watched as they GOP lost control of the House and Senate. Dole couldn't even find someone to run and defeat Florida's unhinged Katherine Harris in the primary (who was handily defeated by incumbent Bill Nelson).
Sugar Lips Dole only has $245,016 in her coffers, but she's feeling confident because Tar Heel Dems haven't been able to put up a candidate that can seal the deal.
Please run, Congressman Miller.
Related:
* Empty letter from the Empty Wig
* 'GOP Superstar'– the Empty Wig gets pummeled
* The Empty Wig threatens voters with 'mandatory' survey
* Empty Wig, empty GOP coffers