Mitt steps in it again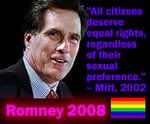 Nothing like getting the Jews mad at you too, eh Mitt? Someone on the team forgot to note a bit of history – that Henry Ford, among other things, was given the Grand Service Cross of the Supreme Order of the German Eagle by Adolph Hitler. Holding your presidential announcement at a museum honoring Ford might seem a tad insensitive, no?
The former Massachusetts governor, who is scheduled to formally launch his presidential candidacy from the Henry Ford Museum in Detroit on Tuesday, was taken to task by The National Jewish Democratic Council.

The council "is deeply troubled by Governor Romney's choice of locations to announce his presidential campaign," executive director Ira Forman said in a statement.

"Romney has been traveling the country talking about inclusiveness and understanding of people from all walks of life," Forman said. "Yet he chooses to kick (off) his presidential campaign on the former estate of a well-known and outspoken anti-Semite and xenophobe."
Hat tip, Oddjob.