Mitt's moving up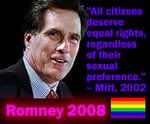 Mitt's slowly gaining momentum. Till the next flip flop (see below).
Fans of former Massachusetts Governor Mitt Romney (R) might consider the latest Rasmussen Reports polling data to be a step in the right direction. Romney is now viewed favorably by 35% of American voters, up from 29% a month ago. Thirty-one percent (31%) now have an unfavorable view, down from 35% in the previous Rasmussen Reports national telephone survey. Still, 34% don't know enough about Romney to have an opinion one way or the other.

In the race for the Republican Presidential nomination, Romney is solidly established in fourth place behind former New York City Mayor Rudy Giuliani, Senator John McCain, and former House Speaker Newt Gingrich.

In General Election match-ups, Romney trails all Democrats. Former North Carolina Senator John Edwards (D) now holds a 52% to 34% advantage over the GOP hopeful. Illinois Senator Barack Obama (D) leads Romney 50% to 34%. A month ago, he trailed Edwards by 22 points and Obama by 13. New polling data matching Romney against Senator Hillary Clinton (D) and former Vice President Al Gore (D) will be released tomorrow.
On the other hand, the folks were polled before yet another flip-flop-flip story emerged about the former Massachusetts governor, who has a history of being both pro-choice and an advocate of forced birth. See after the flip. (CNN):
Romney's acknowledged abortion switch — and the abandonment of such a deeply personal justification for his initial position — has some critics asking whether he has a philosophical core.

"While Mitt Romney says he's not a multiple-choice candidate, his record shows that he has routinely changed his position on everything from abortion to taxes, making it difficult to know where he stands," said Stacie Paxton, a spokeswoman for the Democratic National Committee.

A Romney spokesman conceded the change but said Romney's current position is equally heartfelt and not political in nature.

"Governor Romney's personal experience with a family member impacted his view of the subject 15 years ago, but in grappling with the issue as an elected governor, he reconsidered the issue. That brought him to a personal decision and public policy decision where he felt it was important to protect the sanctity of life," said Kevin Madden, Romney's press secretary.

…Yet during an October 25, 1994, debate with Sen. Edward M. Kennedy, D-Mass., Romney said: "Many, many years ago, I had a dear, close family relative that was very close to me, that passed away from an illegal abortion. It is since that time my mother and my family have been committed to the belief that we can believe as we want, but we will not force our beliefs on others on that matter, and you will not see me wavering on that."